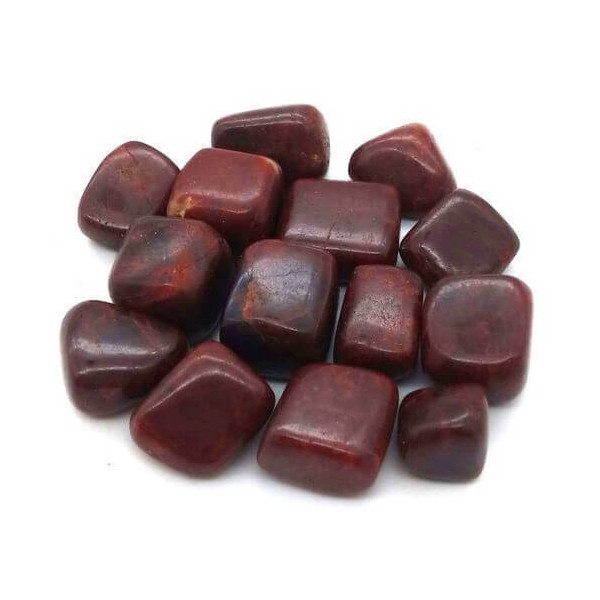 Raw Garnet Extra Rolled Stone
Garnet stone rolled extra for success
Garnet brings a very strong energy it gives strength and courage and brings a great support in self-confidence and success.
Our sand roses are between 1 and 3 cm.
He is originally from Brazil.
By buying this product you can collect up to 45 points. Your cart will total 45 points that can be converted into a voucher of €0.09.
Garnet stone is a crystalline stone with a cubic shape formed from aluminum and iron silicate. It is red to brown in color. The main deposits of Garnet are located in South Africa, Brazil, Austria, India and Madagascar.
It is a stone which gives strength and courage. It is also recognized for its stimulating effect on the reproductive organs and restores sexual vigor.


Actions attributed to the Garnet stone on the physical plane



Garnet stone strengthens the heart system by stabilizing blood circulation. It allows better assimilation of hemoglobin by increasing blood plasma. It helps leukemia patients or victims of anemia to strengthen their blood and therefore reduce fatigue linked to these diseases. It also strengthens the hair system thus preventing abscesses, boils or skin diseases. It stimulates the liver, spleen and kidneys. It protects the spine by reducing the pain associated with this part of the body. It also stimulates the reproductive organs and improves the sexual potency of men. Finally, it can also bring well-being to ringing in the ears or tinnitus.


Actions attributed to the Garnet stone on the psychic level



Garnet stone has many virtues, it brings strength and the joy of living to those who wear it. It also gives confidence to the most timid. It improves self-confidence and openness to others. It fights discouragement and weariness. It can help to cope with feelings of persecution experienced during attacks of dementia related to psychiatric illnesses. It also helps with regression on past lives.



How to purify your garnet stone?



Garnet stone is purified in salted distilled water. It requires purification before each use because it absorbs negative energies very strongly.


How to recharge a Garnet stone?



Garnet stone recharges in sunlight, leaving it under its rays for a few hours.
We only offer authentic stones which means that they have their own life and can have small peculiarities that make their uniqueness.
Each stone is different because each being is different and you will receive the stone assigned to you. In a way, she chooses you.
-------------------------------------------------- -
Lithotherapy does not replace consultations with your approved doctor. The properties are those that traditions, user experiences and reference books have. The stones are not a substitute for a medical consultation and are not drugs. In the event of illness, a consultation with your doctor remains a priority.
5 other products in the same category: