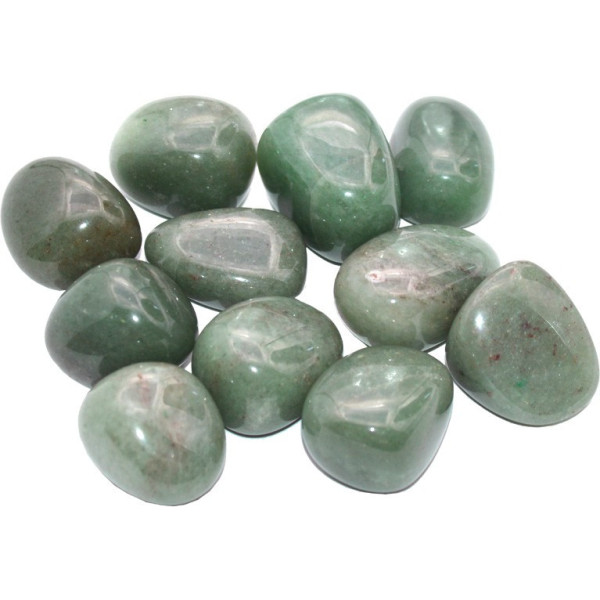 Green aventurine tumbled stone
The green aventurine is the stone of chance and adventure. Once known for bringing good luck, prosperity and health. This quality stone changes the daily life of its followers by having a great influence on them.
Size: 2.5 to 3 cm
Origin: South Africa
By buying this product you can collect up to 21 points. Your cart will total 21 points that can be converted into a voucher of €0.04.
Green aventurine, stone of chance and adventure
Green aventurine is a variety of quartz with small inclusions of fuschite.
The main deposits of green aventurine are found in Brazil and China.
Actions attributed to green aventurine on the physical plane:
Green aventurine is a very complete stone which is recommended against many physical ailments. First of all, it improves blood circulation disorders and balances blood pressure by regulating the heart rate. It calms nausea and alleviates headaches. Finally it helps to lower bad cholesterol levels, relaxes muscle contractures and soothes tired eyes.
Actions attributed to green aventurine on the psychic level:
Green aventurine is known to allay the fears and anxieties of young children. It allows self-control and to keep one's cool. It helps to make big decisions and to persevere in the implementation of large-scale projects. Like many quartz, it promotes the creative spirit and helps to find inspiration.
How to purify your

green aventurine

?
Green aventurine is purified by placing it for at least three hours in a glass container filled with distilled water or lightly salted water.
How to recharge a

green aventurine

?
Green aventurine recharges in several ways; either by placing it in an amethyst geode, or by exposing it to sunlight (preferably in the morning) or to the rays of the moon.
We only offer authentic stones which means that they have their own life and can have small peculiarities that make their uniqueness.
Each stone is different because each being is different and you will receive the stone assigned to you. In a way, she chooses you.
-------------------------------------------------- -
Lithotherapy does not replace consultations with your approved doctor. The properties are those that traditions, user experiences and reference books have. The stones are not a substitute for a medical consultation and are not drugs. In the event of illness, a consultation with your doctor remains a priority.
10 other products in the same category: