On sale!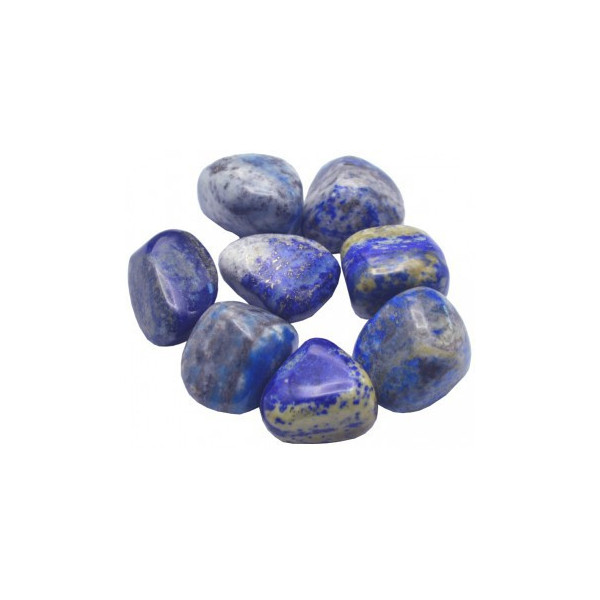 Natural lapis lazuli
Lapis lazuli is a stone from the feldspars group, it is a sulfur silicate of aluminum and sodium. It is an intense royal blue and forms of various aggregates.
It has pyrite veins which gives it this irregular break. Lapis lazuli most often comes from deposits located in Afghanistan, Chile, Russia, near Lake Baikal or even in Burma.
Lapis Lazuli brings vitality while relaxing the body and mind. It is a powerful stone as far as physical skill is concerned.
Size 3 - 3.5 cm
Origin : Afghanistanot
Save 10%
€6.75
VAT included
By buying this product you can collect up to 67 points. Your cart will total 67 points that can be converted into a voucher of €0.13.
€7.50
Actions attributed to Lapis Lazuli on the physical plane

Lapis lazuli is a stone for purification of the body. It relieves inflammation, swelling, cramps, headaches. It brings down the fever and acts on migraines of nervous origin by taking care to put the lapis lazuli on the forehead by having deposited a few drops of essential oil of orange tree before. It relieves the pain of Multiple Sclerosis and reduces swelling. It acts on the thyroid by strengthening the thymus. It promotes the regrowth of nails and hair and slows down hair loss. Also useful on the ENT system, this stone calms coughs, sore throats and sneezes, it is to be placed on the chakras corresponding to the concerns encountered.



Actions attributed to Lapis Lazuli on a psychic level

Lapis lazuli is a formidable stone of communication and dialogue, it allows you to keep lucidity in all circumstances and to open your critical mind. Lapis Lazuli is the stone of the gods, it allows you to unravel the throat and let emotions pass through the throat, thus freeing up speech. It is a bulwark against anxieties and allows you to control your emotions. A useful stone for artists, it helps to develop creativity and imagination.
How to purify your Lapis Lazuli?

Just place the lapis lazuli in distilled water or lightly salted running water.


How to top up a Lapis Lazuli?

Reloading the lapis lazuli is done in natural light (preferably the sun) or by placing it on a large rock crystal.
-------------------------------------------------- -
Lithotherapy does not replace consultations with your approved doctor. The properties are those that traditions, user experiences and reference books have. The stones are not a substitute for a medical consultation and are not drugs. In the event of illness, a consultation with your doctor remains a priority.
10 other products in the same category: