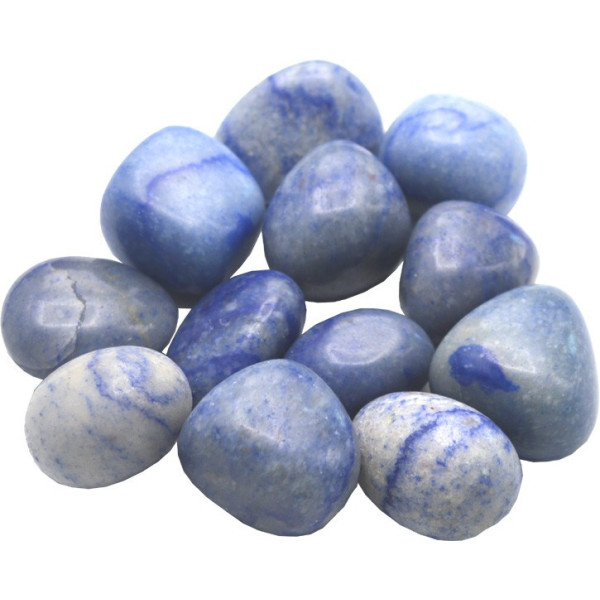 Blue quartz
Blue quartz for body purification
Quartz is the most common mineral on earth. It is part of the silicate group and is therefore composed of silicon dioxide.
The main mines for quartz extraction are in Brazil but it can be found all over the world. Several colors possible for quartz. Colorless, white, gray, brown, pink, red or blue, each color obviously having its specificity.
Blue quartz purifies our body and strengthens the immune system.
It strengthens the heart, lungs and parasympathetic nervous system.
It protects against certain negative radiation.
Two choices are available to you:
- Quality A in 2.5 to 4 cm
- Quality A in 4 to 6 cm
He is originally from Brazil
By buying this product you can collect up to 55 points. Your cart will total 55 points that can be converted into a voucher of €0.11.
Actions attributed to blue quartz on the physical plane
Blue quartz is used more psychically and spiritually than physically. It is all the same a stone which makes it possible to take care of the problems related to the ENT system such as sinusitis, bronchitis or ear infections. It helps a lot in case of rhinitis with stuffy nose to decongest the nasal walls.
Actions attributed to blue quartz on the psychic level
Blue quartz is known to strengthen the immune system and bring cellular rebalancing to the metabolism. It helps in the purification of the body and therefore promotes healing. It is recommended to facilitate self-expression. It loosens the throat and chest area while dispelling inner fears. It is an accelerator to creativity and inner peace. Finally, it is recommended for oral presentations to help build confidence and express yourself clearly and audibly.
How to purify your Blue Quartz?
Blue quartz will be purified and cleaned with preferably distilled water.
How to recharge a Blue Quartz?
The blue quartz pebble is recharged in sunlight or placed on a cluster of quartz or on a piece of amethyst. Like all quartz, it is also recharged by fumigating sage or by burying it overnight.
We only offer authentic stones which means that they have their own life and can have small peculiarities that make their uniqueness. Each stone is different because each being is different and you will receive the stone assigned to you. In a way, she chooses you.
-------------------------------------------------- -
Lithotherapy does not replace consultations with your approved doctor. The properties are those that traditions, user experiences and reference books have. The stones are not a substitute for a medical consultation and are not drugs. In the event of illness, a consultation with your doctor remains a priority.
5 other products in the same category: