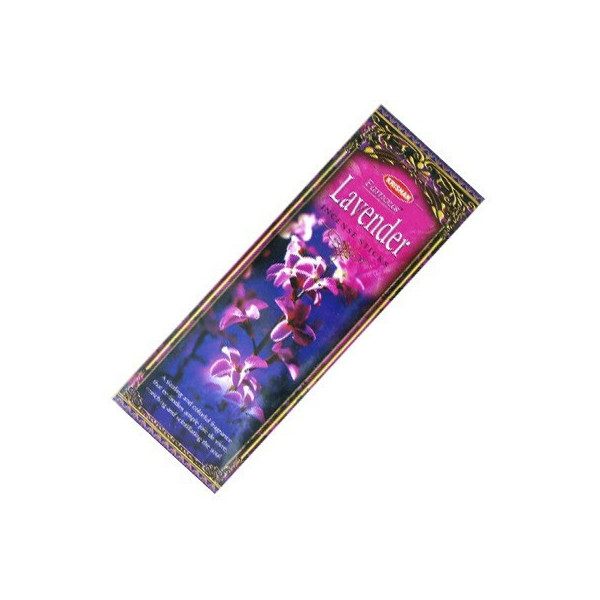 Lavender krishan incense
Lavender incense sticks krishan

Box of 8 lavender krishan incense sticks.
Decreasing price depending on the quantity ordered.
Thelavender incense brings a note of Provence to your home, it is more subtle than spray scents and adds a touch of freshness. The only thing missing will be the cat of the cicadas.
All our incenses are of artisanal quality, they are made by hand in the pure Indian tradition based on essential oils.
Origin India.
By buying this product you can collect up to 4 points. Your cart will total 4 points that can be converted into a voucher of €0.01.
What is the method of making Indian lavender incense
?

Thelavender incense krishan in box of 8 sticks is handcrafted in accordance with Indian tradition.
With what incense
is krishan lavender made?

The ingredients oflavender incense are composed of extracts, powders and essential oils of natural plants including lavender extracts
How to use a krishan lavender incense stick
?

To properly consume a stick oflavender incense you must first have an incense holder suitable for this use.

You have to light the incense stick with a lighter or a match and let the first half an inch burn before blowing lightly to extinguish the small flame so that only a slow combustion remains.

It is imperative to place your sticklavender incense in a suitable place and away from any source of risk such as curtains, papers ... The combustion zone must be clear and incense must not be burned without supervision.

After the combustion of your incense it is preferable to ventilate the room for a few minutes in order to evacuate the small smoke and thus keep only the sweet and pleasant scent of the incense.
What is lavender incense commonly used for?
Thelavender incense is generally used to soothe and calm you will provide a feeling of freshness and renewal.
It is ideal for neutralizing negative waves present in a room of the house.
5 other products in the same category: