Reduced price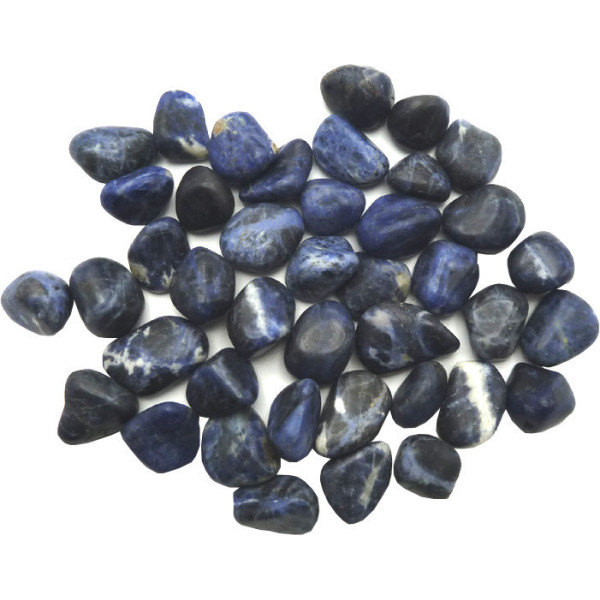 Sodalite tumbled stone or pebble
Sodalite tumbled stone or pebble
Sodalite is great for nervous people, helps connect energies. is a great protection for the work. Allows to acquire and stabilize, logic, rationality and self-control.
We offer sodalite in quality in 2 sizes: rolled stone from 2 to 2.5 cm and pebble from 4.5 to 6 cm.
Origin: Brazil
Save 10%
€1.44
VAT included
By buying this product you can collect up to 14 points. Your cart will total 14 points that can be converted into a voucher of €0.03.
€1.60
Actions attributed to sodalite on the physical plane
Sodalite is very effective against diabetes. It strengthens the thyroid as well as the thyroid glands. By stimulating the brain and the lymph, it considerably improves blood circulation. It has almost the same properties as lapis lazuli but with less power.
Actions attributed to sodalite on the psychic level
Sodalite is a stone of appeasement. It calms restless spirits. It is also the stone of intuition. She opens the 3rd eye. It relieves pain and anxieties and allows you to have better quality sleep. It is also the stone of premonitory dreams.
How to purify your sodalite?
To purify your sodalite, simply immerse it in unsalted distilled water.
How to recharge a sodalite?
To recharge a sodalite, it is enough to bury it, it likes to recharge itself with the underground forces.
We only offer authentic stones which means that they have their own life and can have small peculiarities that make their uniqueness.
Each stone is different because each being is different and you will receive the stone assigned to you. In a way, she chooses you.
-------------------------------------------------- -
Lithotherapy does not replace consultations with your approved doctor. The properties are those that traditions, user experiences and reference books have. The stones are not a substitute for a medical consultation and are not drugs. In the event of illness, a consultation with your doctor remains a priority.
10 other products in the same category: