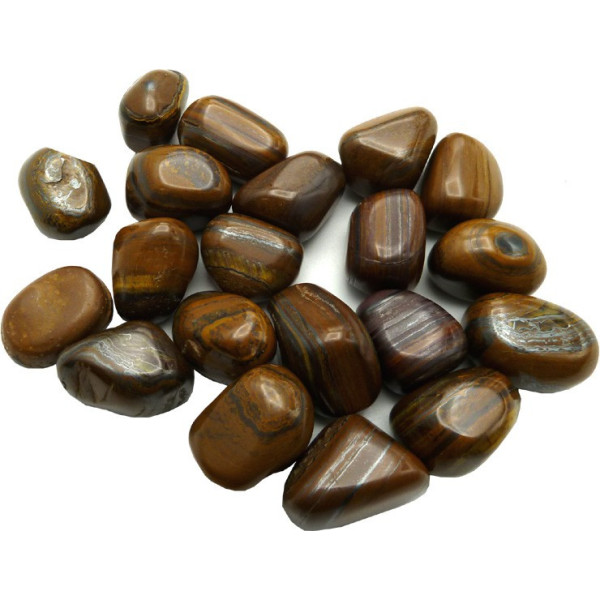 iron eye tumbled stone
The Iron Eye infuses physical and intellectual strength
Iron eye in the form of a tumbled stone from 2.5 to 3 cm.
The iron eye is also called hematoid jasper, it is an aggregate made up of shimmering tiger eye, iron oxide and jasper arranged in almost parallel layers. It is a stone of the quartzite family which takes on reddish to orange colors. It is a stone of anchoring and protection. Its main deposits are in South Africa, Brazil, Australia, Burma or USA or India.
By buying this product you can collect up to 37 points. Your cart will total 37 points that can be converted into a voucher of €0.07.
Actions attributed to the Iron Eye on the physical plane
The iron eye promotes recovery during convalescence. It strengthens the heart muscle and infuses physical and intellectual strength. It helps to overcome temporary weaknesses and chases fatigue and overwork. It helps athletes with muscle recovery and reduces cramps and muscle stiffness. It also helps to strengthen athletic endurance. The iron eye stimulates the male sexual organs and regulates female hormones after a miscarriage for example. Finally, it helps soothe bleeding and promotes healing.
Actions attributed to the Iron Eye on a psychic level
The Iron Eye helps to endure the change undergone and gives an iron morale in the face of the difficulties of life. It helps to overcome fatigue and sadness. It helps older people overcome the boredom and apathy of aging. By affixing it to the solar plexus, it gives determination, perseverance, and courage to achieve the goals set. It is also the essential stone for the timid to whom it gives strength, courage and self-confidence.
How to purify your iron eye?
The iron eye purifies itself by immersing it in running water for a few hours.
How to recharge your iron eye?
The Iron Eye simply recharges in the sunlight, leaving it for a while during the hottest hours of the afternoon.
We only offer authentic stones which means that they have their own life and can have small peculiarities that make their uniqueness.
Each stone is different because each being is different and you will receive the stone assigned to you. In a way, she chooses you.
-------------------------------------------------- -
Lithotherapy does not replace consultations with your approved doctor. The properties are those that traditions, user experiences and reference books have. The stones are not a substitute for a medical consultation and are not drugs. In the event of illness, a consultation with your doctor remains a priority.
5 other products in the same category: