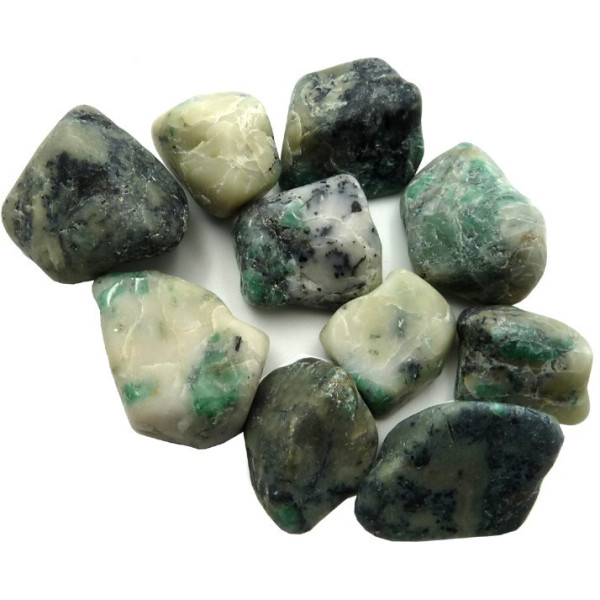 emerald tumbled stone
Emerald harmony and balance
Natural emerald presented in the form of a tumbled stone from 1.5 to 3.5 cm.
Origin Brazil
Emerald is a stone from the Beryls group, it is made of Aluminum Silicate and Beryllium. Its name means "Heart of Stone" and it is blue green, light green or dark green. It is the stone of harmony and balance. Its main deposits are located in South Africa, Australia, Austria, Colombia, India, Brazil, Nigeria, Russia, Pakistan, Madagascar, USA, Zambia or Tanzania.
By buying this product you can collect up to 25 points. Your cart will total 25 points that can be converted into a voucher of €0.05.
Actions attributed to the emerald on the physical plane
Emerald helps relieve migraines and lowers fever. It fights against diseases related to the ocular system (conjunctivitis). It helps regulate the thyroid and reduce mild tachycardias. It is also effective against diseases of the ENT system (Bronchitis, rhinitis, flu). It strengthens the pancreas and the liver and relieves pain related to intestinal problems. Finally, it is effective in relieving pain in the spine.
Actions attributed to the emerald on the psychic level
Emerald is a stone that contributes to the harmony of relationships in general, whether they are friendly, family or romantic. It calms passions and brings inner calm. It is a benevolent stone that allows openness to others. It stimulates teamwork and cooperation. It can help to accept certain phobias like claustrophobia. It is also the stone of knowledge, it energizes memory and encourages concentration.
How to purify your emerald?
The emerald is purified by immersing it for a few hours in slightly salted demineralized water.
How to recharge an emerald?
Emerald recharges in sunlight or by dropping it on a rock crystal.
We only offer authentic stones which means that they have their own life and may have small peculiarities that make their uniqueness.
Each stone is different because each being is different and you will receive the stone assigned to you. In a way, she chooses you.
-------------------------------------------------- -
Lithotherapy does not replace consultations with your approved doctor. The properties are those that traditions, user experiences and reference books have on it. The stones are not a substitute for medical consultation and are not medicine. In the event of illness, a consultation with your doctor remains a priority.
5 other products in the same category: