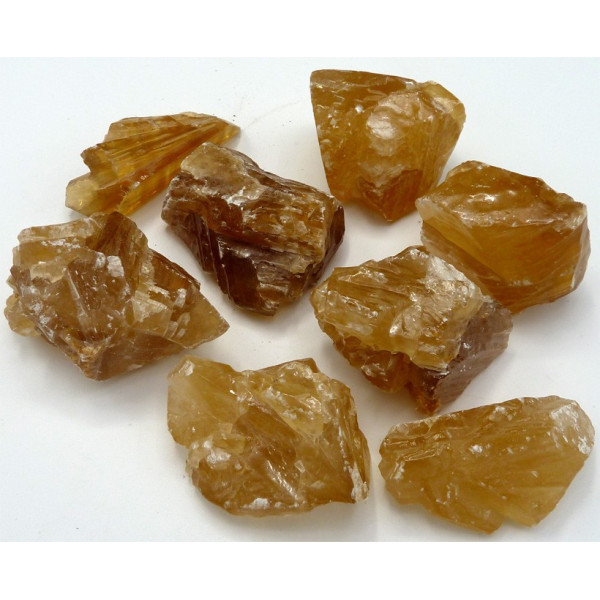 Calcite raw honey
Calcite raw honey
Our honey calcites are available in 2 sizes the small of 1.5 cm minimum and the large ones of 4 cm minimum.
He is originally from Mexiquel.
By buying this product you can collect up to 32 points. Your cart will total 32 points that can be converted into a voucher of €0.06.
Honey calcite is a stone with a rhombohedral crystal system. It is composed of calcium carbonate. Honey calcite is orange in color and the main deposits are found in England, France, Iceland, Romania, Germany and Mexico.
Calcite honey calms pain related to the spleen and brings concentration. It soothes tension and calms stomach pains.


Actions attributed to honey calcite on the physical plane

Calcite honey being more of a stone that acts on the psychic level, we can still attribute the balancing of the endocrine system and hormone levels. It soothes tension and strengthens the pancreas. It also promotes the assimilation of calcium and therefore strengthens the bone system.


Actions attributed to honey calcite on the psychic level



Honey calcite brings serenity, calm and comfort. It stimulates the intellect and strengthens memory. It is an important support during all types of learning requiring memory. It helps to fight against fatigue and drowsiness. It is a perfect stimulant of the will and encourages the wearer of honey calcite to move forward, to have self-confidence.


How to purify your honey calcite?



Honey calcite is purified by placing it on a bed of coarse salt for several hours or by immersing it in distilled water.


How to recharge a honey calcite?



Honey calcite is recharged in the sun or in natural light.
We only offer authentic stones which means that they have their own life and can have small peculiarities that make their uniqueness.
Each stone is different because each being is different and you will receive the stone assigned to you. In a way, she chooses you.
-------------------------------------------------- -
Lithotherapy does not replace consultations with your approved doctor. The properties are those that traditions, user experiences and reference books have. The stones are not a substitute for a medical consultation and are not drugs. In the event of illness, a consultation with your doctor remains a priority.
5 other products in the same category: