Reduced price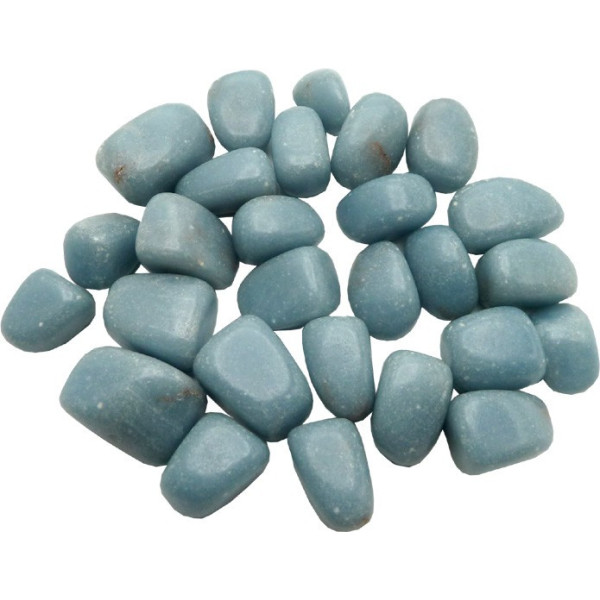 Agelite tumbled stone AA quality
The name of the angelite suggests gentle, humble qualities, and symbolizes our pure soul of child or even baby. Help us in listening to angels and other heavenly beings.
Quality: AA
Size: 2 to 4 cm
Origin: Peru
Save 10%
€3.15
VAT included
By buying this product you can collect up to 31 points. Your cart will total 31 points that can be converted into a voucher of €0.06.
€3.50
Angelite symbolizes our pure child soul
Angelite is a variety of anhydrite. It is often colorless but can also take on pinkish or bluish tints.
The main angelite deposits are found in many countries such as Peru, Mexico, Egypt, Great Britain, Poland or Libya.
Actions attributed to angelitis on the physical plane:
Angelite is a stone with "feminine energy", it facilitates the flow of milk in young nursing mothers and helps to avoid the baby blues. It soothes the sorrows and night terrors of young children.
Angelite is a stone known to soothe sore throats, and to balance thyroid hormones.
When applied directly to the skin, it relieves superficial burns. It promotes the recalcification of bones, cavities and nails.
Actions attributed to angelitis on the psychic level:
Angelite is the stone of scientists. It helps in the understanding of mathematics and all subjects related to science. It helps in the acceptance of what seems not to be by reducing psychic pains.It is also a stone of listening and serenity and allows you to find your place among other people in a peaceful way. It also brings kindness to others and provides a feeling of peace and tranquility. Finally, it helps bring the Truth to others, regardless of the impact it will have on the recipient.
How to purify your

angelite

?
Angelite is purified with running water, it should above all not be left to stagnate in water, it would lose its capacities.
How to recharge a

angelite

?
Angelite recharges in sunlight.
We only offer authentic stones which means that they have their own life and can have small peculiarities that make their uniqueness.
Each stone is different because each being is different and you will receive the stone assigned to you. In a way, she chooses you.
-------------------------------------------------- -
Lithotherapy does not replace consultations with your approved doctor. The properties are those that traditions, user experiences and reference books have. The stones are not a substitute for a medical consultation and are not drugs. In the event of illness, a consultation with your doctor remains a priority.
10 other products in the same category: