Reduced price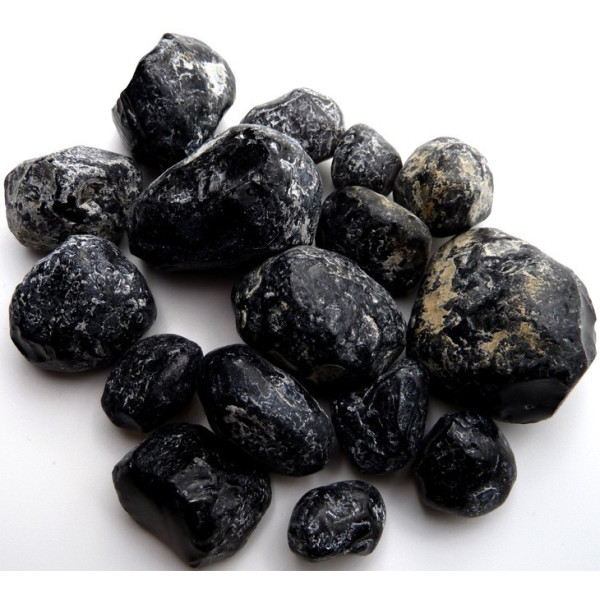 Apache's tear tumbled stone
The "Apache Teardrop" is an obsidian stone found in southern Arizona.
It is said that an Apache Teardrop Obsidian owner will never have to cry again because the Apache women have shed so many tears that they have carried all misfortunes forever.
Size: 1 to 1.5 cm
Origin: United States
Save 10%
€0.90
VAT included
By buying this product you can collect up to 9 points. Your cart will total 9 points that can be converted into a voucher of €0.02.
€1.00
The Obsidian "Apache Tear" of Southern Arizona
Apache tear is a stone from the black obsidian family with small white inclusions.
The main deposits of apache tear are found in Mexico and the state of Utah in the United States.
Actions attributed to the tear of apache on the physical plane:
The tear of apache is a stone with the powers of rebalancing and regeneration. It helps restore the balance between muscle tissue and the intestine. It beautifies the skin and gives strength to tired hair. It regenerates the heart system as well as the renal system and nerve endings in the skin. It also promotes the assimilation of two vitamins essential for good health: vitamin B and vitamin E.
Actions attributed to the tear of apache on the psychic level:
The tear of apache has always been used by the American Indians to protect them from dark forces. It gives them luck and protection.
It helps to live in the present moment by freeing the one who wears it from the blockages linked to the past and to forget resentments. It promotes forgiveness to the other.
During a work on oneself, it will help to bring to the surface the negative feelings without violence to come to understand them and to release them more easily.
How to purify your

tear of apache

?
Apache tear is purified with running water by letting cool water run for a few minutes on the stone.
Note that this stone absorbs energy enormously, so it needs to be recharged quite often.
How to recharge a

tear of apache

?
Apache tear is recharged on a cluster of rock crystals or in sunlight (preferably in hot hours).
We only offer authentic stones which means that they have their own life and can have small peculiarities that make their uniqueness.
Each stone is different because each being is different and you will receive the stone assigned to you. In a way, she chooses you.
-------------------------------------------------- -
Lithotherapy does not replace consultations with your approved doctor. The properties are those that traditions, user experiences and reference books have. The stones are not a substitute for a medical consultation and are not drugs. In the event of illness, a consultation with your doctor remains a priority.
10 other products in the same category: