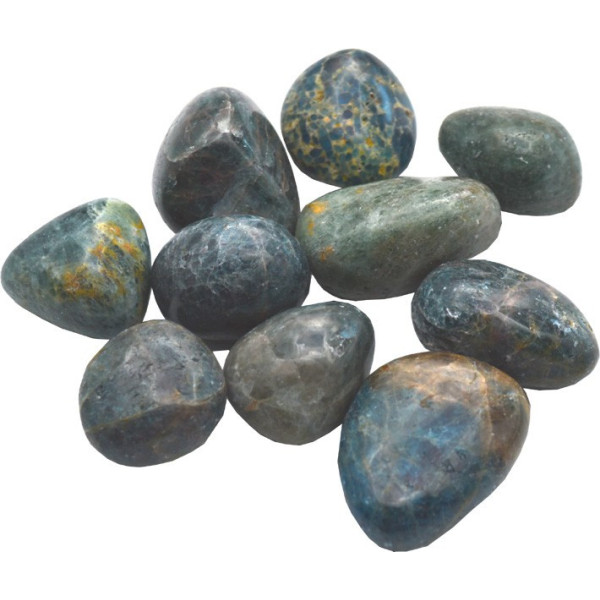 Apatite tumbled stone
Apatite is effective for weight loss because it reduces appetite, but also allows you to look inward to find out the truth. This very powerful stone makes it one of the most popular on the market.
Size 1.8 to 3 cm
Origin: Brazil
By buying this product you can collect up to 65 points. Your cart will total 65 points that can be converted into a voucher of €0.13.
Apatite, lose weight, reduce appetite
Apatite is a fine stone with very diverse colors, it has a hexagonal crystal system.
The main apatite deposits are mainly found in North America (Canada, United States) but also in Portugal, Brazil, Pakistan and France.
Actions attributed to apatite on the physical plane:
Apatite is a very effective stone to help with weight loss, it reduces appetite by acting on ghrelin, the hormone of satiety.
It is also highly recommended for bone problems, because it allows them to be strengthened and a faster repair of bone tissue in the event of fracture in particular.
To soothe the pain of arthritis, just wrap the joint in an elastic fabric like strapping and deposit some apatite.
Actions attributed to apatite on the psychic level:
Apatite is recommended to fight against hypertension when it is worn as an inset (so close to the heart).
Apatite is a stone of serenity, so it helps to channel the emotions of people who tend to lose their means in case of sudden strong emotions.
It also helps develop the creative side of an artist.
Finally, it helps the very timid to gain self-confidence and to manage to express themselves correctly in public.
How to purify your

apatite

?
Apatite is purified with running water, by burying it or with incense (white sage)
How to recharge a

apatite

?
Apatite recharges in sunlight by depositing it for a few hours in the hottest hours or on a cluster of quartz
We only offer authentic stones which means that they have their own life and can have small peculiarities that make their uniqueness.
Each stone is different because each being is different and you will receive the stone assigned to you. In a way, she chooses you.
-------------------------------------------------- -
Lithotherapy does not replace consultations with your approved doctor. The properties are those that traditions, user experiences and reference books have. The stones are not a substitute for a medical consultation and are not drugs. In the event of illness, a consultation with your doctor remains a priority.
5 other products in the same category: