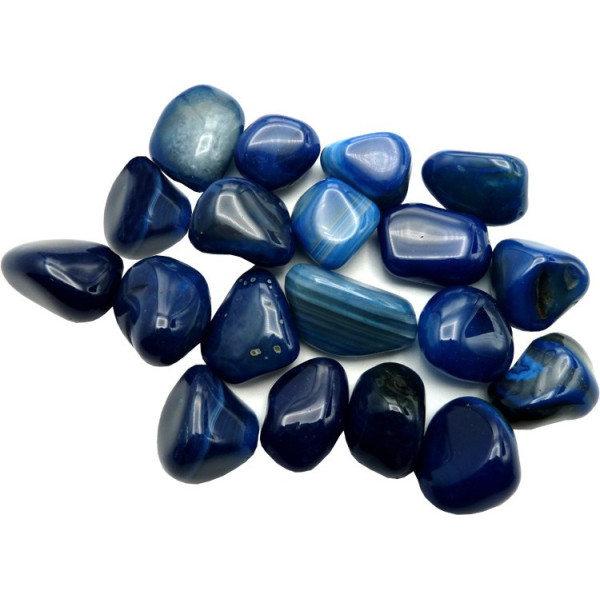 Blue agate chalcedony
Blue chalcedony agate is the stone of speakers, greatly promoting communication. It acts gently, without ever rushing its owner, while keeping a certain harmony between the elements.
Rolled stone from 4 to 5 cm
Origin: Brazil
By buying this product you can collect up to 42 points. Your cart will total 42 points that can be converted into a voucher of €0.08.
Chalcedony agate, stone of orators
Blue chalcedony agate is a cryptocrystalline variety of quartz, it is made up of tiny crystals visible only under a microscope.
The main deposits of blue agate chalcedony are found in Brazil, Turkey, Sri Lanka, India, Algeria and California. There are even deposits in France as in Finistère.
Shares allocated to

blue agate chalcedony

on the physical level:
Blue agate chalcedony is the stone linked to the throat and the ailments that surround it: angina, hoarseness… It would also be effective in limiting the stuttering of people who are handicapped by it. Finally, it strengthens the energies of the gall bladder and the spleen by combating poisonings linked to these organs (gallstones in particular). It also reduces the unpleasant effects of menopause (hot flashes, nausea, etc.)
Shares allocated to

blue agate chalcedony

on the psychic level:
Blue agate chalcedony gives the wearer confidence to express themselves in public, for example, by strengthening self-confidence. It helps to fight against shyness and stress related to expression. It also promotes the memory of speeches to be made and frees speech. It facilitates contact and helps break the blockages associated with stressful situations.
How to purify your

blue agate chalcedony

?
Blue agate chalcedony is purified in running water or in salted distilled water.
How to recharge a

blue agate chalcedony

?
Blue chalcedony agate recharges in sunlight or lunar light (preferably full moon) or by placing it on a cluster of quartz.
We only offer authentic stones which means that they have their own life and can have small peculiarities that make their uniqueness.
Each stone is different because each being is different and you will receive the stone assigned to you. In a way, she chooses you.
-------------------------------------------------- -
Lithotherapy does not replace consultations with your approved doctor. The properties are those that traditions, user experiences and reference books have. The stones are not a substitute for a medical consultation and are not drugs. In the event of illness, a consultation with your doctor remains a priority.
5 other products in the same category: