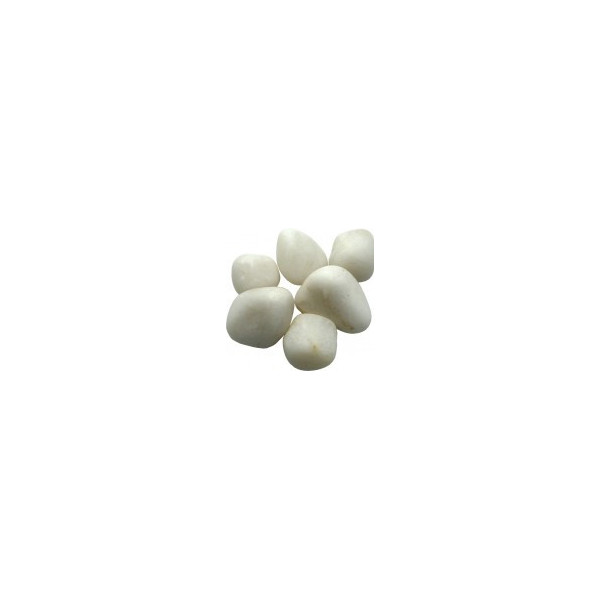 White agate - Rolled stone
The white agate is a stone of peace which symbolizes purity and virginity in the spiritual sense of the term. Our white agate is natural and rolled in India.
Size 2.5 to 3.5 cm
Origin: India
By buying this product you can collect up to 20 points. Your cart will total 20 points that can be converted into a voucher of €0.04.
White agate, stone of peace
White agate is a variety of quartz that takes its name from a river in Sicily where it was first discovered.
Shares allocated to

white agate

on the physical level:
Thewhite agate is a stone widely used to treat joint inflammation. It is enough to place the stone on the part of the body to be relieved: temples for migraines, sore muscles or soothing eyes.
It is also a stimulating stone for male fertility (to be placed in the marital room).
White agate is also recommended for soothing people with prostate or kidney pain. White agate will also protect pregnant women throughout their pregnancy (to wear as often as possible)
Shares allocated to

white agate

on the psychic level:
Thewhite agate is a luminous stone that brings clarity of the mind, it purifies the chakras and opens the passage of positive energies. It is also the stone of appeasement and is widely used for meditation. As for pregnant women, it protects the wearer from external aggressions. White agate brings calm and inner peace, it is often used to calm mental neuralgia. It also allows for greater indulgence towards others or towards oneself.
How to purify your

white agate

?
Thewhite agate is purified by immersing it in demineralized water, slightly salted for several hours.
How to recharge a

white agate

?
TheWhite agate recharges by simply placing it in the sun for a few hours or on a cluster of quartz.
We only offer authentic stones which means that they have their own life and can have small peculiarities that make their uniqueness.
Each stone is different because each being is different and you will receive the stone assigned to you. In a way, she chooses you.
-------------------------------------------------- -
Lithotherapy does not replace consultations with your approved doctor. The properties are those that traditions, user experiences and reference books have. The stones are not a substitute for a medical consultation and are not drugs. In the event of illness, a consultation with your doctor remains a priority.
10 other products in the same category: