Reduced price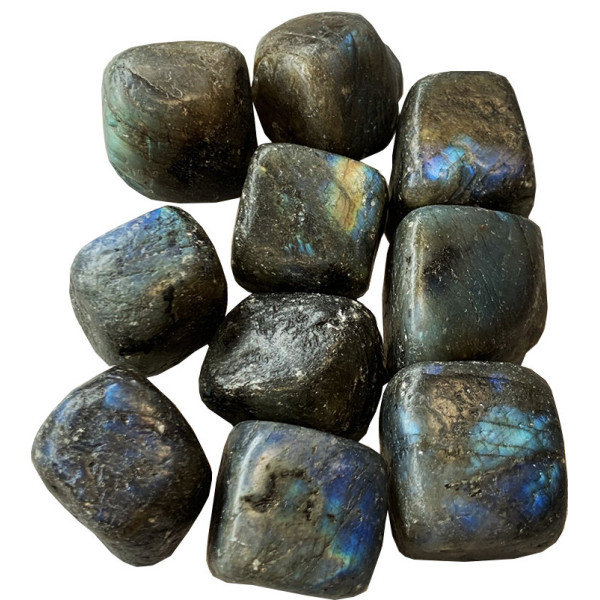 Labradorite tumbled stone from 2 to 3 cm
Labradorite absorbs bad waves and strengthens energies
Labradorite has the ability to absorb bad waves and destroy them so it has a very important purifying power.
It can be used to purify a place, a person or an object is use is very extensive in lithotherapy.
Surely the most sought after in lithotherapy, our labradorite is "B" quality
Quality B in flat tumbled stone 2 to 3 cm
He is originally from Madagascar
Save 10%
€2.16
VAT included
By buying this product you can collect up to 21 points. Your cart will total 21 points that can be converted into a voucher of €0.04.
€2.40
Labradorite is a stone that takes its name from the region in which it was discovered: the Labrador region in Canada. It is part of the Feldspars family and has a triclinic crystal system. It is green, blue or gray in color with blue mirror effects.
The main labradorite deposits are located in Canada, the United States, Australia but also in France, Madagascar, Russia and Ukraine.
Actions attributed to labradorite on the physical plane

Labradorite is a stone that strengthens energy, and to regain shape, it is the quintessential refreshing stone. It will therefore be worn as a pendant, for example during heavy fatigue or periods which put the body to the test. However, it is not recommended to wear it at night, because it prevents sleep. Labradorite is a special stone because it adapts to the wearer and will provide him with what he is looking for. It protects the throat, the voice and in particular the extinctions and hoarseness. It helps rebalance the vertebrae by infusing them with enough energy to avoid deformities of the spine. It is also an excellent stimulant for blood circulation and relieves joint pain caused by rheumatism. It also helps hormonal balance, especially for women going through menopause.
Actions attributed to labradorite on the psychic level
Labradorite balances moods and suppresses fluctuations. It helps in the management of past elements which would be painful, in particular from events that occurred during childhood. It helps to speak and therefore to analyze his emotions through words. It is also the stone of self-healing and therefore helps to resolve buried emotional problems. It protects the wearer from stress and the problems of others by forming a barrier to protect the person from bad waves. It promotes social ties and helps create friendships that could last over time. It absorbs negative energies to transform them into positive energy.
How to purify your labradorite?

Labradorite is purified by passing it under running water about twice a month.
How to recharge a labradorite?


Labradorite recharges in sunlight only.
We only offer authentic stones which means that they have their own life and can have small peculiarities that make their uniqueness.
Each stone is different because each being is different and you will receive the stone assigned to you. In a way, she chooses you.
-------------------------------------------------- -
Lithotherapy does not replace consultations with your approved doctor. The properties are those that traditions, user experiences and reference books have. The stones are not a substitute for a medical consultation and are not drugs. In the event of illness, a consultation with your doctor remains a priority.
10 other products in the same category: