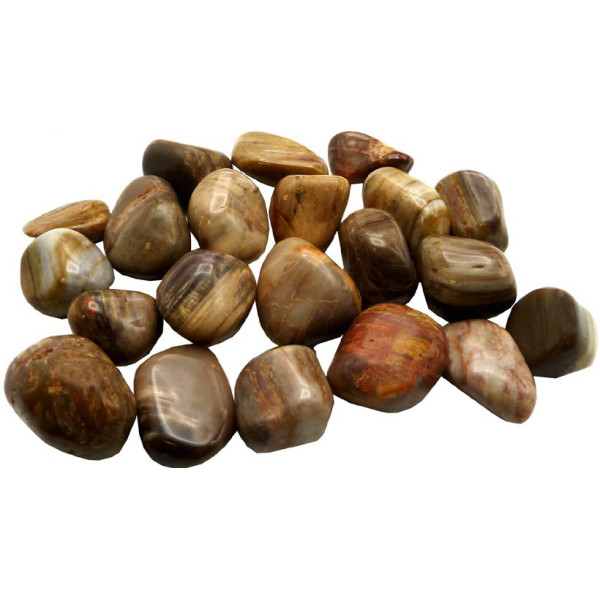 Fossilized wood - Rolled stone
Fortifying fossilized wood

This stone, fossilized or petrified, is very good for arthritis or rheumatism.

Highly recommended for the elderly, it would strengthen the nervous system, the heart and the spleen.

Fossilized wood is a stone of the silicon family, it has a rhombohedral crystal system. In terms of colors, it goes beige or brown. The main deposits are located in Brazil, Argentina, United States and Egypt.

Quality A in 2 to 4 cm

She is from Brazil
By buying this product you can collect up to 20 points. Your cart will total 20 points that can be converted into a voucher of €0.04.
Actions attributed to fossilized wood on the physical plane

Fossilized wood aids children's growth by strengthening their bone and nervous systems. Fossilized wood alleviates pain associated with arthritis and rheumatism. This stone is a fortifier for the cardiovascular system and for the spleen.
It stimulates the metabolism and the digestive system. This stone is very beneficial as part of a slimming diet that results from insufficient rooting. Finally, it is a stone that brings vitality and liveliness to the wearer.

Actions attributed to fossilized wood on the psychic level

Fossilized wood is a very useful stone to fight against the stress of exams or competitions for example. It is also a calming stone for rowdy children. It is also a stone which gives courage in the face of the trials of life.
Fossilized wood is beneficial to the elderly because it slows down memory loss linked to neurodegenerative diseases such as Alzheimer's disease. It is also an anchor stone, to the earth, and therefore to reality.
How to purify your fossilized wood?

The fossilized wood will be purified in unsalted distilled water.
How to reload fossilized wood?


Fossilized wood recharges in sunlight or on a mass of quartz.
We only offer authentic stones which means that they have their own life and can have small peculiarities that make their uniqueness. Each stone is different because each being is different and you will receive the stone assigned to you. In a way, she chooses you.
-------------------------------------------------- -
Lithotherapy does not replace consultations with your approved doctor. The properties are those that traditions, user experiences and reference books have. The stones are not a substitute for a medical consultation and are not drugs. In the event of illness, a consultation with your doctor remains a priority.
5 other products in the same category: