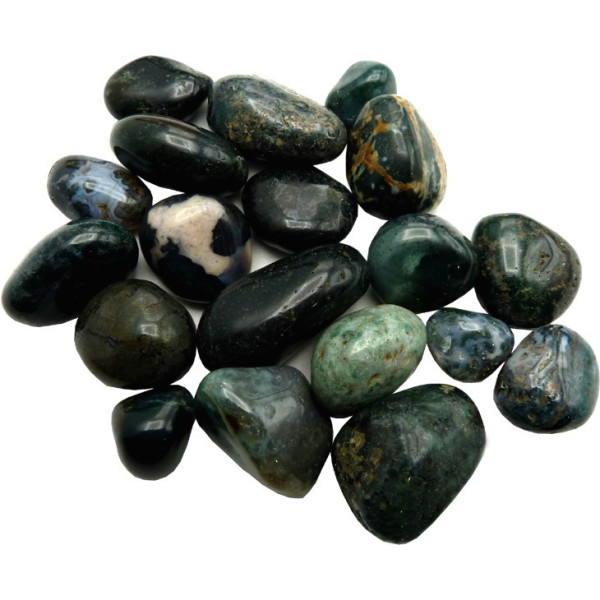 Moss agate - Rolled stone
Moss agate to be heard and heard
She gives self-confidence and brings assurance and self-control, it can help you persuade because it is recognized for its virtues in communication.
Moss agate is also a fertility stone in the vegetable free, it was used by peasants and gardeners to guarantee better harvests.
Moss agate is a stone of the quartz family oxides of silicon, it is rhombohedral in shape. Its colors are diverse and varied, it goes from white to reddish brown through bluish gray or even brownish yellow. Its particularity is in the fact that it contains inclusions of sparkling green color, which gives it this spongy appearance. The main deposits are located in India, Brazil, Mexico, Madagascar, Italy or China.
A quality in 3 to 3.5 cm
She is from India
By buying this product you can collect up to 22 points. Your cart will total 22 points that can be converted into a voucher of €0.04.
Actions attributed to moss agate on the physical plane

Moss agate is the stone of diabetics, it helps rebalance the blood sugar level and therefore stabilizes blood sugar. It is also a fortifier for the heart, blood circulation and the pancreas. It gives physical strength to the wearer by protecting them from viral infections and inflammation.
It allows you to regain vitality and energy and preserves the general state of health by infusing its strength. It is also a stimulator of the renal and lymphatic system. This stone brings calm and allows a link with the Earth, source of serenity.
Actions attributed to moss agate on the psychic level

Moss agate gives confidence in the evening, it also carries self-control and confidence. It helps to be persuasive during interviews or conferences, it is a stone of communication. It also gives courage in difficult situations.
It helps fight against anxieties and emotional instability by disinhibiting the wearer in cases of isolation for example. It helps to take initiatives by freeing us from our fears and diverting negative energies. It is a stone that brings happiness, wealth and friendship.
How to purify your moss agate?

The moss agate will be purified under running water for a few minutes or by immersing it in salted distilled water.
How to recharge a moss agate?


Moss agate recharges in sunlight, on a cluster of quartz, or in an amethyst geode.
We only offer authentic stones which means that they have their own life and can have small peculiarities that make their uniqueness. Each stone is different because each being is different and you will receive the stone assigned to you. In a way, she chooses you.
-------------------------------------------------- -
Lithotherapy does not replace consultations with your approved doctor. The properties are those that traditions, user experiences and reference books have. The stones are not a substitute for a medical consultation and are not drugs. In the event of illness, a consultation with your doctor remains a priority.
10 other products in the same category: