Reduced price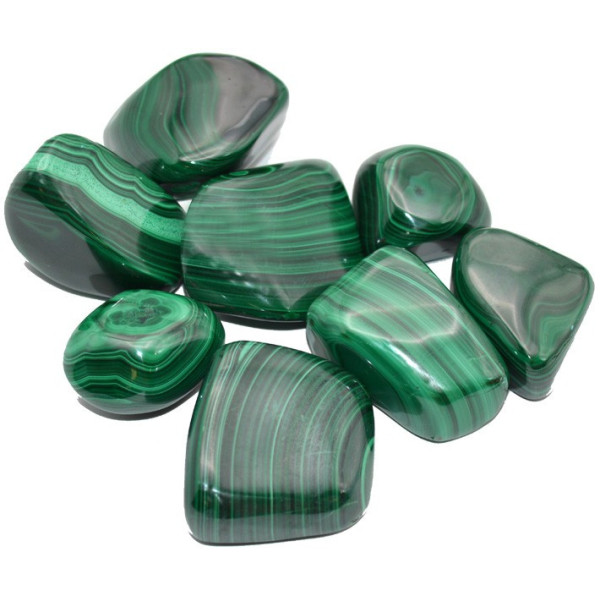 Malachite - Rolled stone
Malachite for creativity
The malachite drives away nightmares and bad dreams, it improves the mood, helps to regenerate tissues, balances emotions and crisis situations. Malachite is the stone of intelligence and promotes inspiration. This stone is the symbol of creativity.

Malachite is a stone of the carbonate family and more precisely of a hydrated copper carbonate. It has a massive shape and is easily scratched. On the color side, it is often green streaked with black and is highly soluble in acids. The main malachite deposits are found in the Congo, Australia, in the state of Arizona in the USA or in Chessy les Mines near Lyon or in the Var.
EXTRA quality in 2 to 4 cm
She is from Congo

Save 10%
€8.91
VAT included
By buying this product you can collect up to 89 points. Your cart will total 89 points that can be converted into a voucher of €0.18.
€9.90
Actions attributed to malachite on the physical plane

The malachite has many powers relief from the various physical ailments that can be encountered. Thus it relieves toothaches, sore throats, kidney pain, joint pain. It is also beneficial during sprains or fractures, it soothes the pain of sore muscle or the fire that leaves the bone fracture. It also has revitalizing properties and increases stamina in general. It promotes cellular detoxification and strengthens the immune system. It calms anxiety, insomnia and reduces epileptic seizures. Finally, it protects the cardiovascular system. Pierre very complete if there is one, it makes you feel better.

Actions attributed to malachite on the psychic level

The malachite promotes meditation and understanding dreams. It helps to overcome the depressive phases and improves self-confidence. It ensures the capacity for expression and persuasion and releases inhibitions. It protects pregnant women and facilitates childbirth. It acts on the menstrual cycle by relieving women of period pain. It also brings lucidity in the event of conflicts. And finally it accentuates self-healing, refines sensitivity and improves receptivity.
How to purify your malachite?

Malachite will be purified by sunlight or moon light or by immersing it in clear water. Especially no salt for the malachite.
How to recharge a malachite?


Malachite recharges on a carpet of quartz or amethyst.
We only offer authentic stones which means that they have their own life and can have small peculiarities that make their uniqueness. Each stone is different because each being is different and you will receive the stone assigned to you. In a way, she chooses you.
-------------------------------------------------- -
Lithotherapy does not replace consultations with your approved doctor. The properties are those that traditions, user experiences and reference books have. The stones are not a substitute for a medical consultation and are not drugs. In the event of illness, a consultation with your doctor remains a priority.
10 other products in the same category: