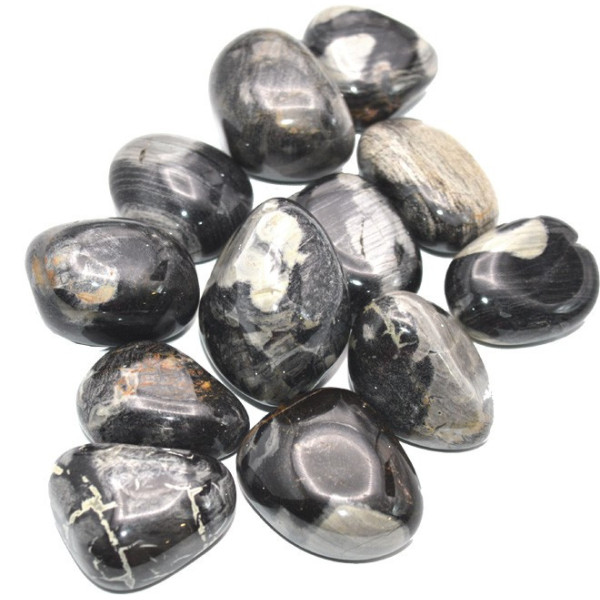 Silver leaf jasper - anchor stone
Silver leaf jasper for energy and vitality
The Silver Leaf Jasper is a very beautiful anchor stone, very useful against states of fatigue. We recommend it to boost energies and recharge vitality.

Silver leaf jasper is a sedimentary rock made up mainly of silica. It can be spotted and ranges from red to black to brown. The main deposits of Jasper are found in Brazil, South Africa or Madagascar.
Quality A in 3 to 4 cm
She is from South Africa
By buying this product you can collect up to 32 points. Your cart will total 32 points that can be converted into a voucher of €0.06.
Actions attributed to silver leaf jasper on the physical plane

Silver leaf jasper is a stone that helps fight against states of fatigue and exhaustion. Silver leaf jasper facilitates blood circulation by perfectly irrigating organs and muscle mass. By promoting this circulation, the stone helps fight against muscle cramps or heavy leg syndrome. The silver leaf jasper has all the virtues of the other jasper such as bringing a better being to the digestive system, a little clearer. It is also perfect for helping muscles relax after a sporting effort, for example.
Actions attributed to silver leaf jasper on a psychic level

Silver leaf jasper is called "supreme protector" and it acts as a shield that provides necessary protection for body and mind. It comforts in the case of invasive psychic phenomena such as bipolarity or manic-depressive illness. It facilitates the circulation of energies and balances humans. It is an excellent bulwark against stress and excessive tension. It acts over time, so you have to wear it for a long time before feeling the benefits.
How to purify your silver leaf jasper?

The silver leaf jasper will be purified by immersing it in salted distilled water for a few hours.
How to recharge a silver leaf jasper?


Silver leaf jasper recharges by exposing it to sunlight.
We only offer authentic stones which means that they have their own life and can have small peculiarities that make their uniqueness. Each stone is different because each being is different and you will receive the stone assigned to you. In a way, she chooses you.
-------------------------------------------------- -
Lithotherapy does not replace consultations with your approved doctor. The properties are those that traditions, user experiences and reference books have. The stones are not a substitute for a medical consultation and are not drugs. In the event of illness, a consultation with your doctor remains a priority.
5 other products in the same category: