Reduced price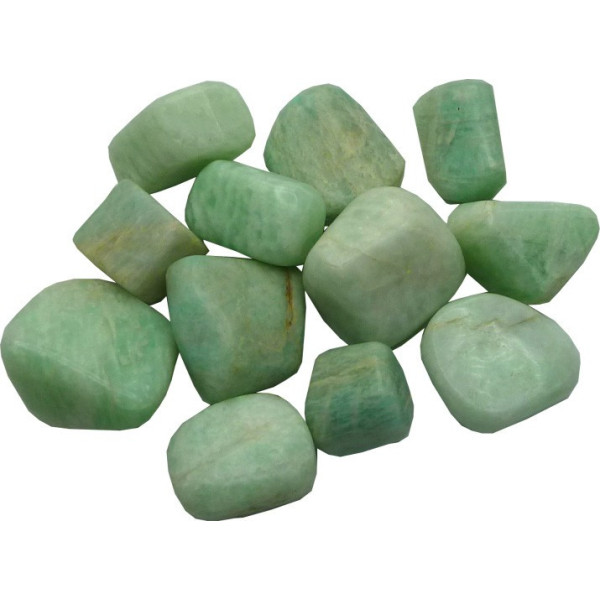 Amazonite tumbled stone 2.5 to 3 cm
Amazonite stone of the joy of living
Amazonite is a stone from the feldspars family with a prismatic or triclinic system. Its colors range from very pale green blue or light turquoise blue. It owes its name to the Amazon River where according to legend it was discovered.
At the time, it gave strength and courage to the warriors who wore it. It is therefore native to most of Brazil but it is also found in South Africa, Colorado, India and Russia.
Amazonite is a stone that awakens the joy of living. It is also the stone of feelings and of the heart which develops tenderness in the emotional relationship.
She is from Brazil
Our amazonites are between 2.5 and 3 cm.
Save 10%
€2.34
VAT included
By buying this product you can collect up to 23 points. Your cart will total 23 points that can be converted into a voucher of €0.05.
€2.60
Actions attributed to amazonite on the physical plane
Amazonite is one of the protective stones for electromagnetic waves emitted by cell phones in particular. It is a calming stone for the central nervous system and therefore fights against diseases that can worsen due to stress. It strengthens the immune system and helps relieve problems related to cholesterol, too high triglycerides or liver and kidney problems. It also relieves cases of osteoarthritis, arthritis and helps calm cramps since it relaxes the muscles.
Actions attributed to Amazonite on the psychic level
Amazonite is the stone of the joy of living, it gives morale, awakens joy in oneself and helps to find the soul of a child. It especially helps to play down complicated situations and to put things into perspective. It is the stone of the followers of the "Carpe Diem" because it helps to live the present moment, it encourages spontaneity. It works very favorably on people in a depressive state and helps to see the world in a positive way. It also fights against frustrations by promoting verbal communication or not. It is the stone of human contact.
How to purify your amazonite?
Amazonite is purified by immersing it in demineralized water which may possibly be slightly salty but without obligation.
How to recharge an amazonite?
Amazonite recharges in natural sunlight and / or on a rock crystal cluster.
We only offer authentic stones which means that they have their own life and can have small peculiarities that make their uniqueness.
Each stone is different because each being is different and you will receive the stone assigned to you. In a way, she chooses you.
-------------------------------------------------- -
Lithotherapy does not replace consultations with your approved doctor. The properties are those that traditions, user experiences and reference books have. The stones are not a substitute for a medical consultation and are not drugs. In the event of illness, a consultation with your doctor remains a priority.
10 other products in the same category: