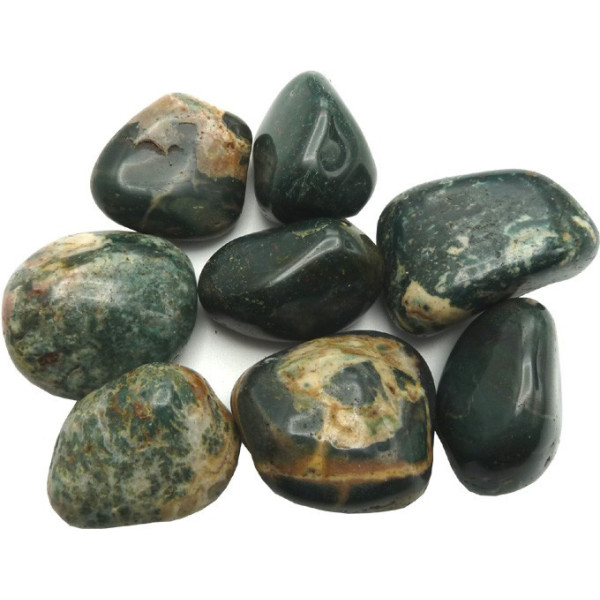 Green jasper creativity stone
Green jasper tumbled stone 2 to 4 cm
Green jasper is a stone from the microcrystalline quartz family with a rhombohedral system. The word jasper comes from the Greek and means speckled stone. Any color can make a jasper and they can feature welts, spots or speckles. Each color of jasper, however, will have different virtues. The main jasper deposits are found in Germany, Madagascar, Brazil but also in France, the United States, India and Russia.
Green Jasper improves the capacity for creativity, visualization and willpower.
All Jaspers act energetically on the emotional character by soothing and calming tensions and lowering the level of emotionality.
They are used as Anchor stones.
He is originally from Madagascar
By buying this product you can collect up to 25 points. Your cart will total 25 points that can be converted into a voucher of €0.05.
Actions attributed to green jasper on the physical plane
Green jasper has anti-inflammatory properties and aids digestion. It has the power to decrease inflammation caused by acidic or aggressive foods for the stomach.
The green jasper fights against fatigue and exhaustion. It is a purifier of organs collecting toxins such as the kidneys, the spleen or the liver.
By massaging the legs, it helps in the resorption of varicose veins. It calms nausea related to stomach aches and turns out to be an excellent stone for strengthening the cardiovascular system and the lymphatic system.
Actions attributed to green jasper on the psychic level
Green jasper is a refocusing stone that first helps to maintain control and self-control in all circumstances.
It supports, reassures and allows not to be overwhelmed by his emotions. It also helps a lot to take a step back, in order to make the best decision possible.
Green jasper refocuses the body physically and helps anchor the earth. It is also a protective stone against harmful influences that could gravitate around the individual. It is a stone that finally brings emotional stability and reassures.
How to purify your green jasper?
The green jasper will be purified under running water or by soaking in a natural scallop shell.
How to recharge a green jasper?
Green jasper is recharged in sunlight but also on a rock crystal mat or an amethyst geode.
We only offer authentic stones which means that they have their own life and can have small peculiarities that make their uniqueness.
Each stone is different because each being is different and you will receive the stone assigned to you. In a way, she chooses you.
-------------------------------------------------- -
Lithotherapy does not replace consultations with your approved doctor. The properties are those that traditions, user experiences and reference books have. The stones are not a substitute for a medical consultation and are not drugs. In the event of illness, a consultation with your doctor remains a priority.
5 other products in the same category: