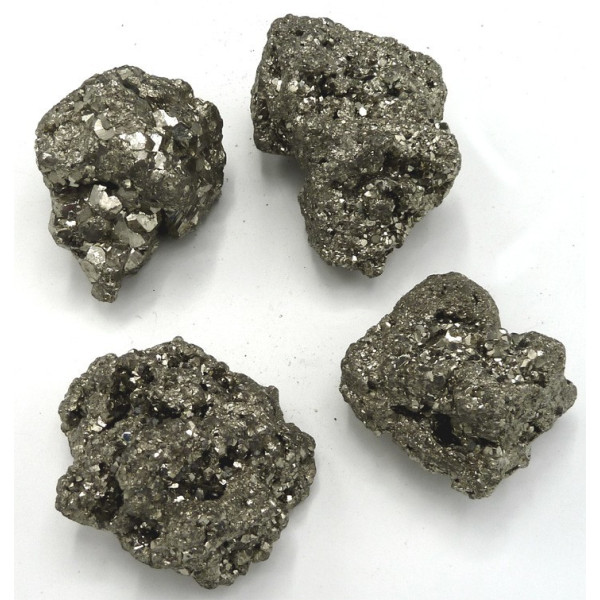 Rough stone pyrite
Pyrite which comes from the Greek "pyros" means Stone of Fire! It is composed of iron disulphide. It is cubic in shape and its colors range from yellow to golden brown all embellished with metallic chips. It is extracted from European deposits such as in Spain or Italy or from deposits located in Latin America, such as Brazil or Peru.
Pyrite is a stone that looks a lot like gold, also called fool's gold.
This stone deeply releases emotional blockages memorized in oneself.

Size 4.5 cm minimum
Origin: Brazil
By buying this product you can collect up to 80 points. Your cart will total 80 points that can be converted into a voucher of €0.16.
Actions attributed to Pyrite on the physical plane
Pyrite is a precious aid for memory, it can help Alzheimer's patients as part of cognitive therapy to refocus their memories. It is a stimulant of intellectual capacities. On the respiratory system side, it opens the bronchi and allows deep breathing. Pyrite being composed mainly of iron it is obviously a precious ally against anemia. It also helps fight against fatigue and helps concentration during sustained intellectual work. It regulates blood sugar levels therefore diabetes and soothes inflammation of the digestive system. It also improves blood circulation.
Actions attributed to Pyrite on the psychic level
Pyrite is an intellectual and spiritual stone. It helps the organization of the most disordered and allows to channel his emotions as his movements. It is a memory stimulator and brings concrete, rigor and construction to all decisions made in terms of creativity. It allows energies to be energized thanks to its alliance between Earth and Fire. It is therefore an energy shield around the bearer of Pyrite. These effects are increased if the stone is placed under a lamp for about twenty minutes.
How to purify your Pyrite?
Just place the pyrite in slightly salted distilled water.
How to reload a Pyrite?
The recharging of the pyrite is of course done in natural light, that of the Sun.
We only offer authentic stones which means that they have their own life and can have small peculiarities that make their uniqueness. Each stone is different because each being is different and you will receive the stone assigned to you. In a way, she chooses you.
-------------------------------------------------- -
Lithotherapy does not replace consultations with your approved doctor. The properties are those that traditions, user experiences and reference books have. The stones are not a substitute for a medical consultation and are not drugs. In the event of illness, a consultation with your doctor remains a priority.
5 other products in the same category: