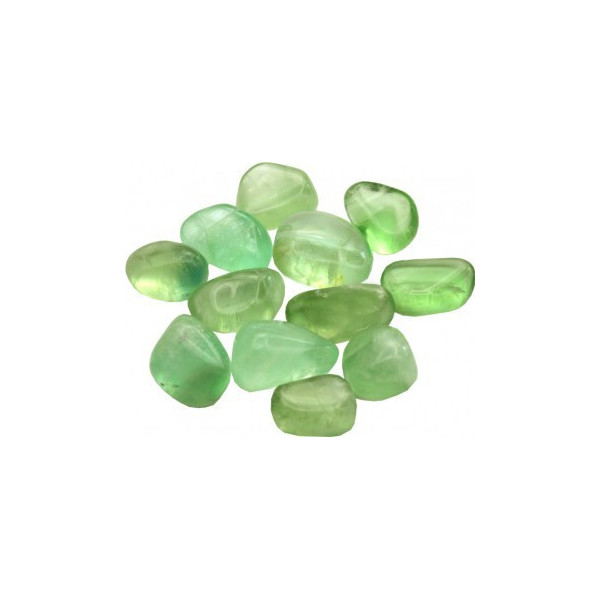 Green fluorite extra
Green fluorite is fluorspar, a transparent and / or translucent mineral which can take on all the colors of the spectrum. The color chart going from light blue to purple, passing through yellow or green.
The original crystal is in the form of two inverted pyramids. Fluorite (or fluorite) is extracted mainly in Europe and in particular in Germany, Spain, England and even Switzerland.
Rich in fluorine, green fluorite brings daily well-being and serenity to the wearer.
size 1 - 2.5 cm
By buying this product you can collect up to 36 points. Your cart will total 36 points that can be converted into a voucher of €0.07.
Actions attributed to Green Fluorite on the physical level
Green fluorite promotes the assimilation and absorption of fluoride and therefore has a great influence on ossification and dentition. It is very effective on bone diseases such as osteoporosis or osteoarthritis. It relieves injuries and pain and facilitates healing and helps regenerate bone tissue. It has a fortifying effect on the lungs and prevents bronchitis. It can be used against influenza and viral infections. Finally, it is excellent for athletes since it strengthens muscle tone.
Actions attributed to Green Fluorite on the psychic level
Green fluorite is THE stone for scientists! It promotes intellectual assimilation and offers logical and rational thinking. Often placed in an office to promote concentration and Cartesian thinking. It is also an exceptional stone for meditation, because it allows a supreme mental elevation. It symbolizes the balance between heaven and earth, therefore between dream and reality, and allows you to keep your feet and your mind on Earth. She is a great help in complex or problematic situations that she helps to resolve without violence. It is also a stone that promotes inspiration and creativity. Fluorite would also be a bulwark against mental disorders and manic-depressive disorders.
How to purify your Green Fluorite?
Just place the green fluorite under running water once or twice a month.
How to recharge a Green Fluorite?
The recharging of the green fluorite is done in sunlight, leaving it for a few hours to heat up.
We only offer authentic stones which means that they have their own life and can have small peculiarities that make their uniqueness. Each stone is different because each being is different and you will receive the stone assigned to you. In a way, she chooses you.
-------------------------------------------------- -
Lithotherapy does not replace consultations with your approved doctor. The properties are those that traditions, user experiences and reference books have. The stones are not a substitute for a medical consultation and are not drugs. In the event of illness, a consultation with your doctor remains a priority.
5 other products in the same category: