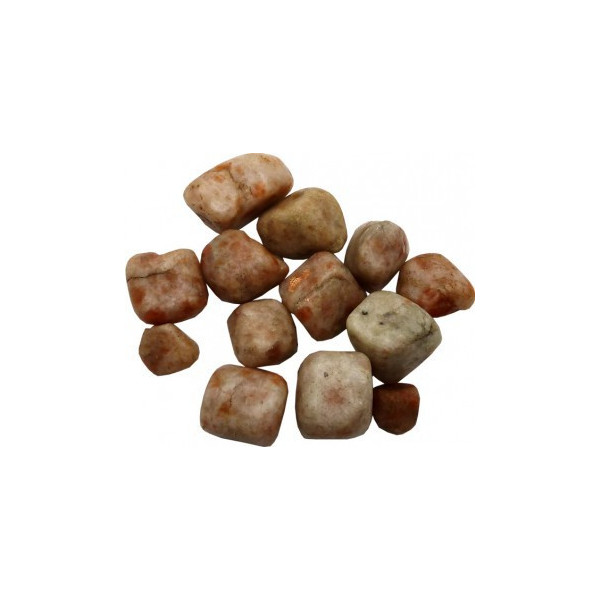 Natural sun stone
The Sun Stone is a stone from the Aventurine Feldspars group, it is an alumina silicate with inclusions of hematite or goethite, which gives it its metallic and very shiny appearance.
In the color chart, the sunstone ranges from reddish brown to shimmering red. It is always opaque. The main deposits are in the United States, Norway, Canada or Russia. It can also be found in Norway.
The very strong vibrations of this stone will bring amplified and positive energies to your aura, the sun stone is useful to help you achieve your personal or professional projects, to overcome the trials and difficulties that you may encounter in life.
Size 2.5 - 3.5 cm

This sunstone is natural, one of the best qualities on the market.
By buying this product you can collect up to 68 points. Your cart will total 68 points that can be converted into a voucher of €0.14.
Actions attributed to the Sun Stone on the physical plane
The Sun Stone can boast many virtues on the physical level. It is one of the most used stones to protect against heart attacks and arterial problems. It is a "hot stone" which transmits heat to the body and allows easier expression. It stimulates the nervous system and reactivates sexuality by removing blockages. Ally of the respiratory system, it fights asthma attacks and allows a deep and restful sleep. It is also valuable for the bone system that it protects from decalcification. Finally, it activates and facilitates the digestive system by fighting against bloating. Stone that diffuses vitality and good humor while helping to purify the blood and regulate the heart.
Actions attributed to the Sun Stone on the psychic level
The Sun Stone brings warmth and the joy of living and helps to evacuate melancholy or sadness. It makes you optimistic and allows you to see things on the bright side. It restores strength and the joy of living and helps to get out of a depressed state. It transmits a positive attitude by chasing away complexes and shyness. It is protective against nightmares and will therefore find a place of choice on the night table for example. It is a stone of joy, of friendship, of meetings. It is beneficial for reaching out to others and provoking a meeting without barrier of shyness or reserve.
How to purify your Sun Stone?
just place La Pierre de Soleil under running water. Above all, do not immerse it in salt water at the risk of destroying it.
How to recharge a Sun Stone?
La Pierre de Soleil recharging is done in sunlight only. You just need to leave it in the sun for a few hours for a full recharge.

We only offer authentic stones which means that they have their own life and can have small peculiarities that make their uniqueness. Each stone is different because each being is different and you will receive the stone assigned to you. In a way, she chooses you.
-------------------------------------------------- -
Lithotherapy does not replace consultations with your approved doctor. The properties are those that traditions, user experiences and reference books have. The stones are not a substitute for a medical consultation and are not drugs. In the event of illness, a consultation with your doctor remains a priority.
5 other products in the same category: