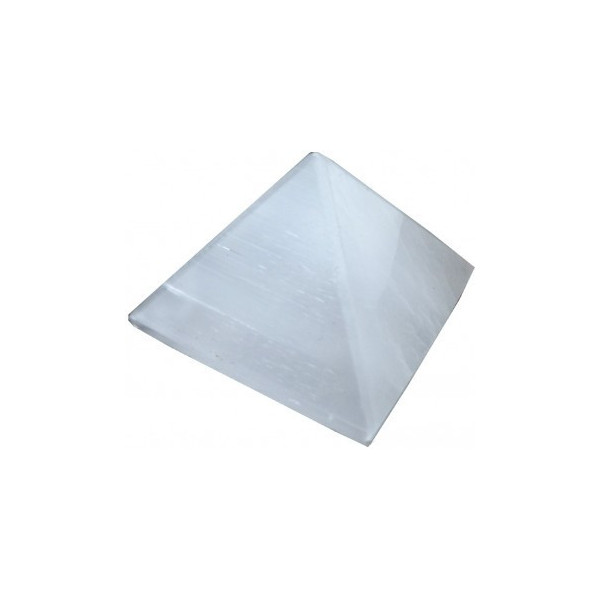 Selenite pyramid grade A
Selenite for clarity of mind
Selenite is a fibrous variety of Gypsum with a white, satin luminescence that forms when isolated seawater evaporates, allowing salts to form in this unique stone.
It is placed in the extension of the Moon Stone. By its radiation, it amplifies the spectrum of the rainbow and brings together all of the energy needs of the human body.
The main deposits are located in Canada, China or Brazil. Selenite is an important stone since it has an extraordinary capacity for connection and balance between mind and body.
Very old stone, selenite is considered to be one of the most powerful crystals for earth vibration. It brings purification and calm to a place.

Size of the pyramid: 4 cm
Origin: India
By buying this product you can collect up to 300 points. Your cart will total 300 points that can be converted into a voucher of €0.60.
Actions attributed to the Selenite on the physical plane:
Selenite is widely used for stomach ailments, stomach ailments. It is, for example, a fortifier for the organs of the belly during pregnancy. In the stomach, it helps fight against obesity problems while restoring elasticity to the skin. It is also an excellent stimulant for the brain and memory. It also has soothing virtues that calm stress and anxieties. And finally it is very useful for treating skin reactions such as urticaria, shingles or psoriasis.
Actions attributed to Selenite on the psychic level:
Selenite builds self-confidence. It promotes judgment and intuition, clarity of mind, concentration and makes it easier to clarify situations that may appear blurry. It helps to refocus on oneself. It promotes and increases creativity. It helps refocus the chakras and is very often used after a brutal shock (physical or emotional) to put the bodily energies back in place. It allows to bring the person towards a universal cure.
How to purify your Selenite?
Selenite only with incense (white sage), this stone does not support water at all.
How to reload a Selenite?
Selenite recharges in sunlight only.
We only offer authentic stones which means that they have their own life and can have small peculiarities that make their uniqueness. Each stone is different because each being is different and you will receive the stone assigned to you. In a way, she chooses you.
-------------------------------------------------- -
Lithotherapy does not replace consultations with your approved doctor. The properties are those that traditions, user experiences and reference books have. The stones are not a substitute for a medical consultation and are not drugs. In the event of illness, a consultation with your doctor remains a priority.
5 other products in the same category: