Reduced price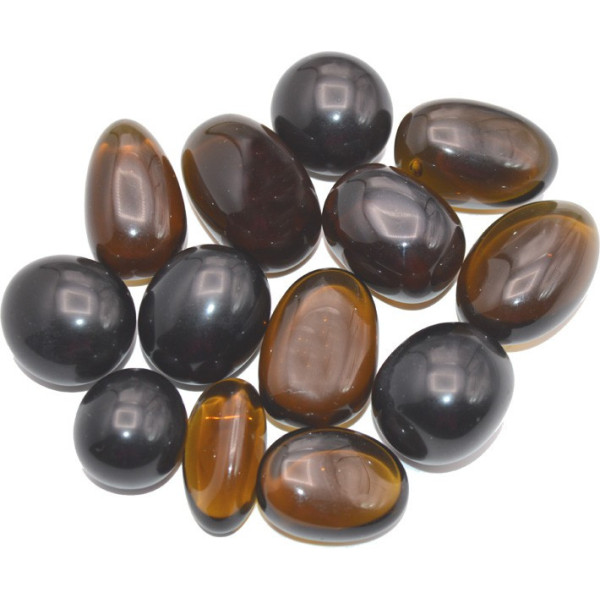 Smoky Obsidian - Rolled Stone
Smoked obsidian to ward off negativity
The Smoke Obsidian is a vitreous volcanic rock loaded with silica. It comes from an acid lava called rhyolite. The Smoke Obsidian is transparent or translucent.
It has a glassy texture and a powerful shine.
The main deposits are located in the United States, Italy, Peru or Japan in volcanic areas.
Smoked obsidian is a very powerful stone that must be handled with care. She is extremely protective.
It is perhaps the most powerful stone in lithotherapy.
A quality in 2.5 to 3.5 cm
She is from the United States
Save 10%
€1.98
VAT included
By buying this product you can collect up to 19 points. Your cart will total 19 points that can be converted into a voucher of €0.04.
€2.20
Actions attributed to Obsidian Smoke on the physical plane:
It relieves inflammation and joint pain as well as the enormous pains of arthritis, injuries or night cramps. A Smoke Obsidian would be very useful in a house to fight against environmental pollution and therefore reduce fatigue related to this scourge.
Actions attributed to Obsidian Smoke on the psychic level:
The Smoke Obsidian retains the same properties as other types of obsidian, to which must be added the ability to make people more humble and more patient. As a reminder, the Obsidian is a very powerful and protective stone which moves away the negativity that surrounds the person who wears it by forming a rampart. The Obsidian is the stone of balance, it allows harmony between body and mind. It is highly recommended to place an Obsidian under a pillow or near the bed, to help relieve the stress of the day and the accumulated tensions.
How to purify your Smoke Obsidian?
It is easily charged with energy, so it must be purified as soon as you take possession of it and before each use. To purify it, run it under tap water or immerse it for a few minutes in spring water.
How to recharge a Smoke Obsidian?
The Smoke Obsidian is recharged in lunar light (especially on full moon evenings) but also in sunlight, in front of the flames or on a cluster of Druze.
We only offer authentic stones which means that they have their own life and can have small peculiarities that make their uniqueness. Each stone is different because each being is different and you will receive the stone assigned to you. In a way, she chooses you.
-------------------------------------------------- -
Lithotherapy does not replace consultations with your approved doctor. The properties are those that traditions, user experiences and reference books have. The stones are not a substitute for a medical consultation and are not drugs. In the event of illness, a consultation with your doctor remains a priority.
10 other products in the same category: