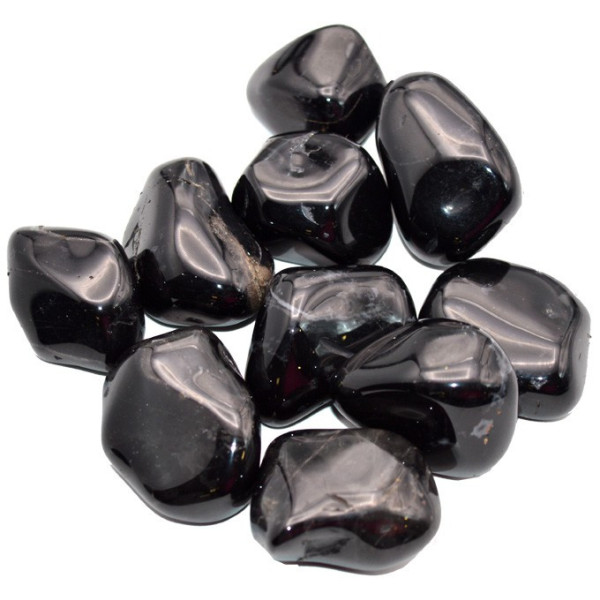 Onyx - Rolled stone
Onyx pierre for the sense of responsibility

Onyx is a variety of chalcedony. It forms at low temperature in volcanic rocks but also in cracks in igneous and metamorphic rocks.

She is mainly native to Latin America (Brazil Mexico) or the United States (Colorado Utah). Other deposits are also exploited in Madagascar or India.

Onyx helps keep your feet on the ground, self-control, and accountability.

It is the stone of protection par excellence and stone of exorcism.

Its solid color testifies to its quality.

Qualified A in 2 to 3 cm

He is originally from Brazil
By buying this product you can collect up to 22 points. Your cart will total 22 points that can be converted into a voucher of €0.04.
Actions attributed to onyx on the physical plane
Onyx protects against sore mouths and relieves toothache. It improves vocal problems and protects the vocal cords. In addition it allows better resistance to cold.
It is also recommended to treat problems related to the inner ear and in particular tinnitus or ringing in the ears. It also restores balance when its loss is due to hearing problems. On the other hand, it is not recommended for women who are pregnant or wish to be pregnant because it comes into contact with the material and the fetus and could be responsible for spontaneous interruption due to its abortive effect.
Actions attributed to onyx on the psychic level
Onyx helps in self-control, it also allows to have a sense of responsibility and a great stability of conduct. It must be worn periodically and not over too long a period because it could cause a state of sadness or gloom. It is an anchor stone which therefore brings stability and supports the mind for all actions or decisions whether beneficial or harmful.
It acts against depressive states provided it is worn intermittently, in fact wearing it constantly could have the opposite effect. It is widely used by mediums (pendulums) because it repels the presence of spirits of bad influence.
How to purify your Onyx?
The purification of onyx will be done once a week with running water because it quickly becomes negatively charged. Remember to purify it as soon as you receive it in order to discharge the negative energies that it could have generated by the people who handled it before it was yours.
How to recharge an Onyx?
Onyx recharges in the light of the sun or the moon. It is also recommended to bury it once a month overnight in order to fully and sustainably recharge it.
We only offer authentic stones which means that they have their own life and may have small peculiarities that make their uniqueness. Each stone is different because each being is different and you will receive the stone that is attributed to you. In a way, she chooses you.
-------------------------------------------------- -
Lithotherapy does not replace consultations with your approved doctor. The properties are those that traditions, user experiences and reference books have. The stones are not a substitute for a medical consultation and are not drugs. In the event of illness, a consultation with your doctor remains a priority.
5 other products in the same category: