Reduced price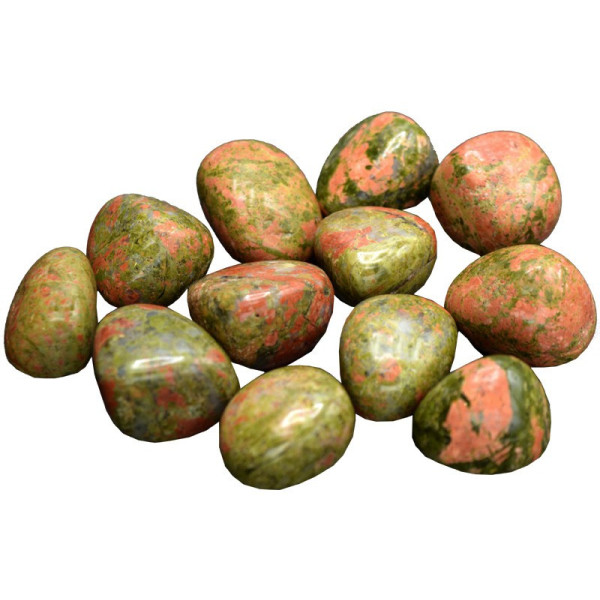 Unakite - Rolled stone
Unakite pierre for emotional stability

Unakite is an altered granite and is extracted from metasomatic, hydrothermal and metamorphic rocks, it is composed mainly of calcium silicate, iron and aluminum. It exists in different colors but the dominant ones are often green or pink.

It can be polished for jewelry if it is of very good quality and is widely used in lithotherapy or for the creation of small Buddhas or small lucky animals.

It is also excellent near a television because it captures the electromagnetic waves that emerge from it.

Unakite helps to free oneself from addictions to drugs, alcohol, helps digestion, good heart function and bone problems.

This stone alone symbolizes better general health.

Quality A in 3 to 4 cm

She is originally from South Africa
Save 10%
€1.53
VAT included
By buying this product you can collect up to 15 points. Your cart will total 15 points that can be converted into a voucher of €0.03.
€1.70
Actions attributed to the unakite on the physical plane:
Unakite has a regulatory function on intestinal transit but also on the well-being of the liver through the solar plexus chakra. It also acts on bone problems, relieves rheumatism and pain due to fractures.
Overall, wearing an unakite greatly improves the immune system and therefore allows a better barrier against bacteria.
Actions attributed to unakite on the psychic level:
Unakite is an anchor stone that allows a certain emotional stability. It soothes the heartaches and helps the harmony of a couple or a family.
It facilitates the expression of feelings towards others and avoids blockages of expression. This stone also promotes spirituality and meditation.
It is widely used in lithotherapy to help unblock buried feelings from the past and resolve moral issues with a painful past.
How to purify your unakite?
Unakite purifies itself in several ways. By passing it under water, but also by leaving it for a few hours in salt water.
It can also be purified by smoking it with incense or in the most natural way possible, by burying it again in rich soil.
How to recharge an unakite?
Unakite recharges in the sun or moonlight like most stones. But you can also place your stones in an empty scallop shell and bury it for one night. Purification and recharging guaranteed. And finally the last trick to recharge unakite is to place it on a cluster of quartz or amethyst.
We only offer authentic stones which means that they have their own life and can have small peculiarities that make their uniqueness. Each stone is different because each being is different and you will receive the stone assigned to you. In a way, she chooses you.
-------------------------------------------------- -
Lithotherapy does not replace consultations with your approved doctor. The properties are those that traditions, user experiences and reference books have. The stones are not a substitute for a medical consultation and are not drugs. In the event of illness, a consultation with your doctor remains a priority.
10 other products in the same category: