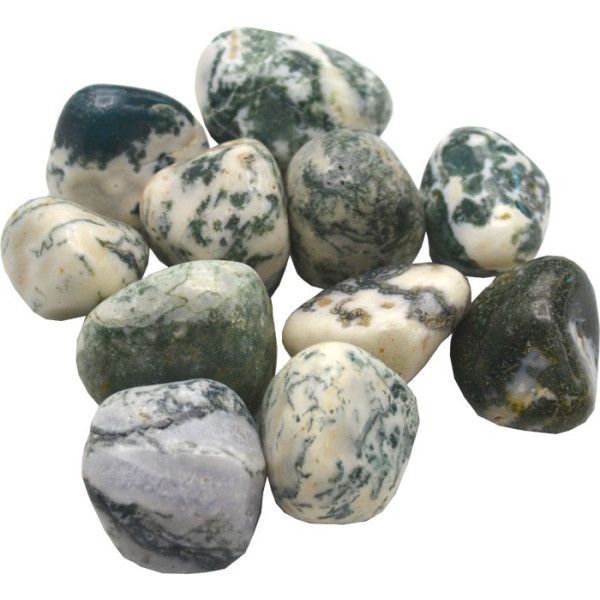 Tree agate - Rolled stone
Arborized agate connection with the heart chakra

There are many different agates, they all have in common that they are very energetic stones, having a strong magnetic power. They come from the quartz family.

Calming and soothing for the whole body. Our tree agate is traditionally rolled in India.

Quality A in 2.5 to 4 cm

She is from India
By buying this product you can collect up to 26 points. Your cart will total 26 points that can be converted into a voucher of €0.05.
Actions attributed to tree agate on the physical plane

The arborized agate has several virtues and in particular that of acting on the eyes, and in particular on small eye problems such as conjunctivitis or dry eyes. It strengthens certain internal organs such as the liver, brain, lungs or stomach. It is the ally of the digestive system since it stimulates it. Among its many properties, it is also credited with relieving headaches, sports cramps or pain such as back pain or lumbago. For the tree agate to relieve the pain, it suffices to position it on the painful point.


Actions attributed to tree agate on the psychic level

The tree agate is in connection with the heart chakra. It therefore acts on the emotions and on the mind. Thus it is known to boost morale and give the necessary impetus to move forward and achieve its goals. It also helps to ward off negative energies and break down internal or psychic barriers that prevent progress. It increases self-confidence. It is advisable to have it always with you, to give yourself strength.


How to purify your tree agate?

To purify your tree agate just soak it in salted water to clean it from accumulated dirt.



How to recharge an arborized agate?

The arborized agate can be recharged either on a quartz or amethyst carpet which allows it to be cleaned but also to recharge it. It also recharges in lunar light. It is therefore enough to deposit them during the evenings of a full moon in the light, a monthly reloading is enough to restore all its properties. All stones that absorb negative energies, such as tree agate, are recharged by the light of the Moon.

Maintenance and recharging: in water (salted if necessary) or in lunar light. The agate is recharged on a carpet of quartz or amethyst.
We only offer authentic stones which means that they have their own life and can have small peculiarities that make their uniqueness.
Each stone is different because each being is different and you will receive the stone assigned to you. In a way, she chooses you.
-------------------------------------------------- -
Lithotherapy does not replace consultations with your approved doctor. The properties are those that traditions, user experiences and reference books have. The stones are not a substitute for a medical consultation and are not drugs. In the event of illness, a consultation with your doctor remains a priority.
5 other products in the same category: