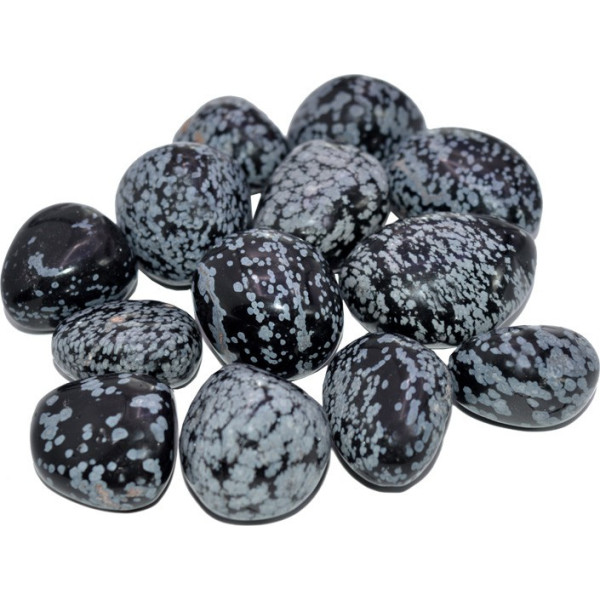 Snow Obsidian - Rolled Stone
Snow obsidian bulwark against bad energies

Obsidian known as snow or snow is part of the family of volcanic rocks rich in silica whose deposits are found in volcanic areas such as Italy, Greece or the Canary Islands, United States ...

Like many stones, snow obsidian can take on many colors, all of which will have a different magnetism. Here we will approach the case of the Snow Obsidian or Snowflake. It is black speckled with white and reminds of the stars in the sky.

It is a stone of balance between Yin and Yang. It readjusts the mind and the emotions. It is a very powerful stone that should be handled with care and respect.

In the world it is said that black absorbs negative energies and white projects positive potentials.

The person who owns the Snow Obsidian stone will see their positive side increase and their negative side minimized.

Quality B in 1.5 to 3 cm

She is from United States
By buying this product you can collect up to 23 points. Your cart will total 23 points that can be converted into a voucher of €0.05.
Actions attributed to snowy obsidian on the physical plane
Snowy obsidian is recommended to fight against physical pain (joints for example) and strengthens the bone system. It helps to absorb intestinal or stomach problems such as ulcers. She has an anti-nausea power perfect for travel. It is beneficial to the blood circulation that it helps to regulate and relieves heavy legs.
Actions attributed to snowy obsidian on the psychic level
Obsidian is one of the most protective stones there is, it forms like a rampart to protect against negative energies. It keeps harmful spiritual influences at a distance from the person. extremely protective which forms a shield against negative energies and ward off harmful spiritual influences. Stone of balance, it allows harmony between body and mind. It also promotes refocusing on oneself.
How to purify your Snow Obsidian?
This stone requires purification (cleaning) after each use. The purification of snowy obsidian is done in distilled water.
How to recharge a Snow Obsidian?
To recharge a Snowy Obsidian, simply place it in sunlight or place it on a cluster of quartz or a piece of Amethyst.
We only offer authentic stones which means that they have their own life and can have small peculiarities that make their uniqueness. Each stone is different because each being is different and you will receive the stone assigned to you. In a way, she chooses you.
-------------------------------------------------- -
Lithotherapy does not replace consultations with your approved doctor. The properties are those that traditions, user experiences and reference books have. The stones are not a substitute for a medical consultation and are not drugs. In the event of illness, a consultation with your doctor remains a priority.
10 other products in the same category: