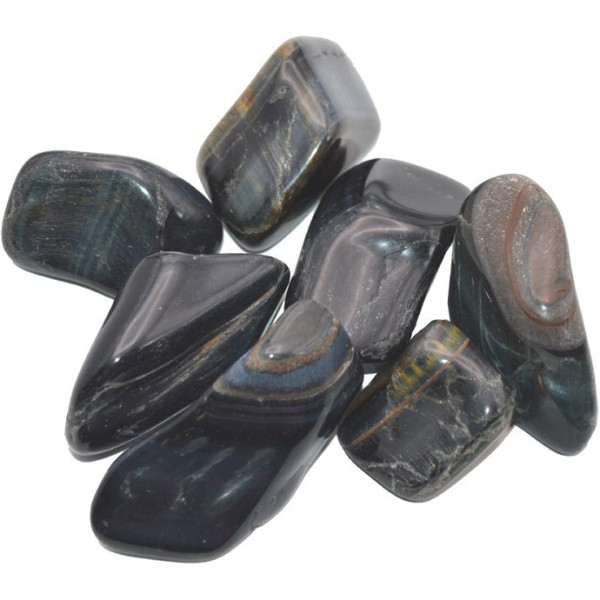 Hawk Eye- Rolled Stone
Hawk eye to open up to others

Falcon's Eye is a fine-fiber quartz aggregate that is part of the quartzite group. It wears shimmering shades ranging from blue green to blue gray with traces of Krokydolite.

The main deposits of this protective stone are found in South Africa, but we also find it in India, Burma, Brazil and Australia.

On the psychological level in lithotherapy, the falcon's eye stone
lets open the change and make room for new ideas.

She also helps to develop listening to others.

Quality A in 1 to 3 cm

He is originally from South Africa
By buying this product you can collect up to 16 points. Your cart will total 16 points that can be converted into a voucher of €0.03.
Actions attributed to the falcon's eye on the physical plane:
The hawk eye strengthens and maintains our visual abilities. It calms tired and irritated eyes and protects against conjunctivitis. It helps in eye recovery for long time people on a computer. It prevents cataracts. It allows you to develop a heightened sense of observation and to maintain optimal concentration during meticulous work. It acts against headaches and violent migraines as an analgesic. It decreases the discomfort associated with asthma attacks. It is also an excellent perspiration regulator. It helps singers or speakers to clear their voices before entering the stage.
Actions attributed to the hawk eye on the psychic level:
The hawk eye is a beneficial stone for change and makes room for new ideas. It develops listening to others. It is the dream stone for people closed in on themselves because it helps them to open up to others and to review their received ideas or convictions. It is a stone of questioning that allows one to think and see things in other ways.
We only offer authentic stones which means that they have their own life and can have small peculiarities that make their uniqueness. Each stone is different because each being is different and you will receive the stone assigned to you. In a way, she chooses you.
-------------------------------------------------- -
Lithotherapy does not replace consultations with your approved doctor. The properties are those that traditions, user experiences and reference books have. The stones are not a substitute for a medical consultation and are not drugs. In the event of illness, a consultation with your doctor remains a priority.
10 other products in the same category: