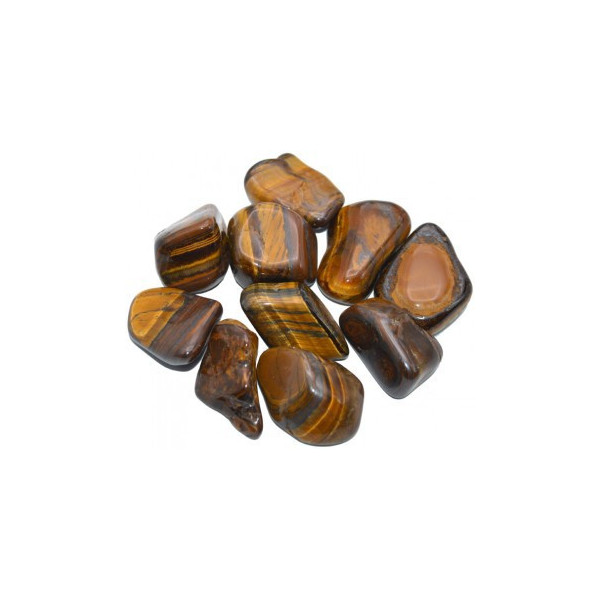 Tiger eye tumbled stone
Tiger's Eye to ward off dangers

Tiger's Eye comes from the quartz family, Tiger's Eye is a macro-crystalline quartz (visible to the naked eye).

It is most often found in South Africa but there are other deposits, especially in Namibia, Australia, Burma, India and some states with a dry climate in the United States (California, Arizona, Montana)

A real shield against the evil eye. The tiger eye acts like a mirror which reflects negative energies back to its emitter. This well-known stone will increase your luck and your positive vibes.

He is originally from South Africa
By buying this product you can collect up to 15 points. Your cart will total 15 points that can be converted into a voucher of €0.03.
Actions attributed to the Eye of the Tiger on the physical plane
Tiger's Eye is a very useful stone for many small physical ailments. Thus it relieves joint pain and in particular painful knees. It helps in the regulation of the adrenal glands like the pancreatic or the pituitary gland. It also helps to regulate asthma attacks. Useful in cases of arterial hypertension, which it stabilizes, it also acts on mental fatigue. Very effective on gastric acidity, it is a valuable ally for intestinal disorders such as colic or diarrhea. Finally, it helps regulated breathing by relaxing the diaphragm.
Actions attributed to the Eye of the Tiger on the psychic level
Tiger's Eye is a protective and beneficial mineral. A warm stone, it repels all dangers, even those of the night, and makes it a stone that we wear like a talisman to protect ourselves from external events that could cause us harm. And this, by making a bulwark to the one who carries it and by returning the negative or harmful energy to the one who emitted it. It refocuses energy and thoughts and also helps to remove discomfort, even reduce depression.
How to purify your Tiger Eye?
Simply place Tiger's Eye in a container filled with slightly salted demineralized water for at least three hours. It should be cleaned regularly without any chemicals.
How to recharge a Tiger's Eye?
The reloading of the Eye of the Tiger, is done quite simply in the light of the sun.
We only offer authentic stones which means that they have their own life and can have small peculiarities that make their uniqueness. Each stone is different because each being is different and you will receive the stone assigned to you. In a way, she chooses you.
-------------------------------------------------- -
Lithotherapy does not replace consultations with your approved doctor. The properties are those that traditions, user experiences and reference books have. The stones are not a substitute for a medical consultation and are not drugs. In the event of illness, a consultation with your doctor remains a priority.
5 other products in the same category: