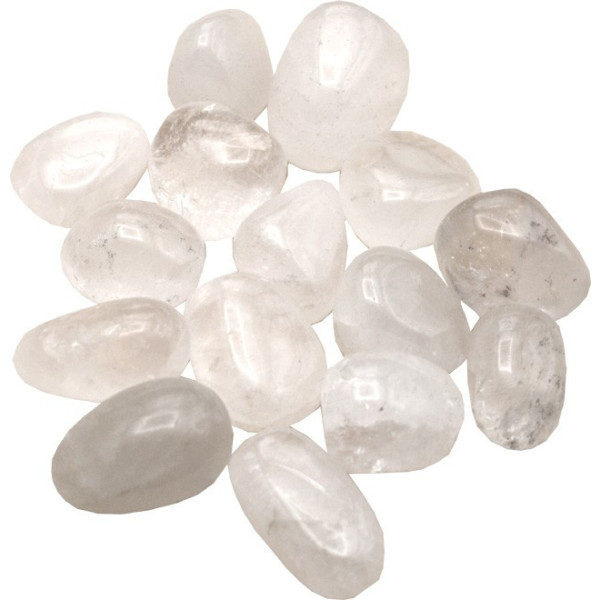 Rock crystal - Rolled stone
Rock crystal ideal for meditation
Rock crystal is considered a stone of protection, it neutralizes bad waves and telluric disturbances, often used to stimulate the sensory organs.
Quality A in 2 to 3 cm
He is originally from Brazil.
By buying this product you can collect up to 23 points. Your cart will total 23 points that can be converted into a voucher of €0.05.
Actions attributed to rock crystal on the physical plane
Rock crystal helps energy flow and balances the various strategic points of the body with the brain, glands and nerves. It helps reduce pain and helps to absorb bruises.
Rock crystal is the stone that can be used for almost anything because its main contribution and the rebalancing of energies.
Actions attributed to rock crystal on the psychic level
The rock crystal allows to have the mind clear and comforts. Rock crystal also offers a marked improvement in perception.
On the parapsychic level, rock crystal accompanies and protects
Rock crystal opens the inner gaze and thus allows us to clearly observe what surrounds us and what makes us.
It is very appreciable to have a rock crystal during a meditation session because it allows to develop the meditative effects while removing the negative waves.
How to purify your rock crystal?
To purify your rock crystal, it suffices to pass it in running water for example in the current of a river or a stream you can also soak it in slightly salted mineral water.
There is also vibration purification which involves placing your stone in a singing bowl and vibrating it while leaving the stone inside until the bowl finishes its vibratory cycle.
How to recharge a rock crystal?
To recharge your rock crystal simply place it in the sunlight.
When reloading stones outdoors, always ensure that the temperatures are not too cold or hot, in fact large differences can destroy a stone in a very short time.
We only offer authentic stones which means that they have their own life and can have small peculiarities that make their uniqueness.
Each stone is different because each being is different and you will receive the stone assigned to you. In a way, she chooses you.
-------------------------------------------------- -
Lithotherapy does not replace consultations with your approved doctor. The properties are those that traditions, user experiences and reference books have. The stones are not a substitute for a medical consultation and are not drugs. In the event of illness, a consultation with your doctor remains a priority.
5 other products in the same category: