Reduced price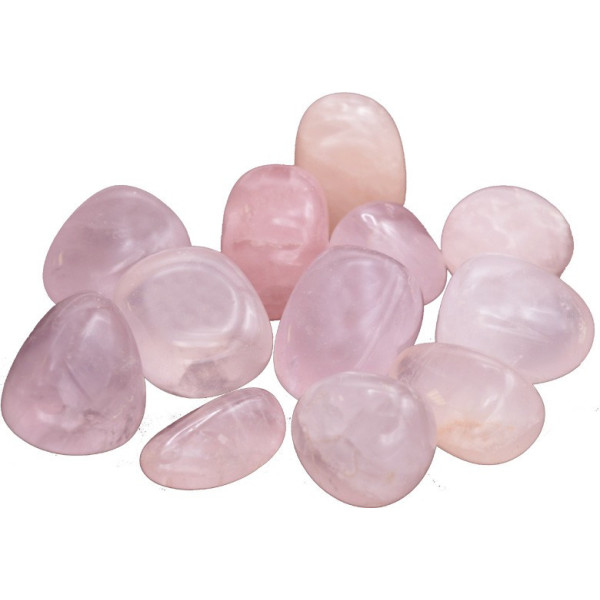 Rose quartz - Rolled stone
Rose quartz develops sensitivity and fulfillment
Rose quartz is a natural stone symbolizing love, gentleness
and tenderness.
It is nicknamed the stone of universal love and
creativity.
Surely the most used reference in lithotherapy, our rose quartz is "AA" quality, one of the best on the market.
AA quality in 1.5 to 3.5 cm
He is originally from Madagascar
Save 10%
€1.17
VAT included
By buying this product you can collect up to 11 points. Your cart will total 11 points that can be converted into a voucher of €0.02.
€1.30
Actions attributed to rose quartz on the physical plane
Rose quartz helps in harmonizing the rhythm of the heart and is very beneficial in stimulating the sexual organs and fertility.
Actions attributed to rose quartz on the psychic level
It is the revealer of desire and highlights our needs as well as those of our partner.
Rose quartz can be of great help in the development of a couple by helping to overcome crises, stress and anger.
It is also very powerful in helping to overcome heartache and emotional wounds.
To love and accept each other more and better, rose quartz is a very good support.
On the spiritual level, rose quartz reveals expectations
This stone opens to the other it allows to put in relation the energies of the wearer and the one with whom this one is brought to exchange or share.
Rose quartz favorably develops sensitivity, fulfillment and compassion and thereby allows a greater understanding of the expectations of the other.
How to purify your rose quartz?
To purify your rose quartz, it suffices to pass it in a running water for example in the current of a river or a stream you can also soak it in a slightly salted mineral water.
There is also vibration purification which involves placing your stone in a singing bowl and vibrating it while leaving the stone inside until the bowl finishes its vibratory cycle.
How to recharge a rose quartz?
To recharge your rose quartz simply place it in sunlight.
When reloading stones outdoors, always ensure that the temperatures are not too cold or hot, in fact large differences can destroy a stone in a very short time.
We only offer authentic stones which means that they have their own life and can have small peculiarities that make their uniqueness.
Each stone is different because each being is different and you will receive the stone assigned to you. In a way, she chooses you.
-------------------------------------------------- -
Lithotherapy does not replace consultations with your approved doctor. The properties are those that traditions, user experiences and reference books have. The stones are not a substitute for a medical consultation and are not drugs. In the event of illness, a consultation with your doctor remains a priority.
10 other products in the same category: