Reduced price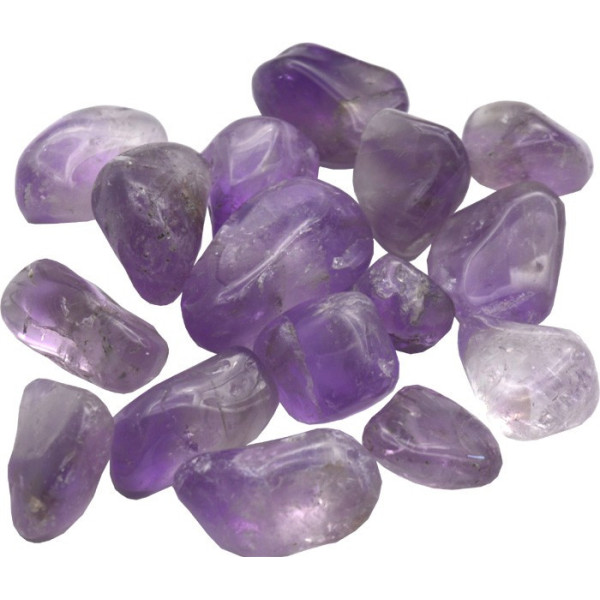 Amethyst - Rolled stone
Amethyst refocusing ideas
Develops clairvoyance and acts on alcoholism. Amethyst is one of the most used stones in lithotherapy thanks to its multiple virtues.
B quality in 2 to 3.5 cm
She is originally from Brazil.
Save 10%
€2.25
VAT included
By buying this product you can collect up to 22 points. Your cart will total 22 points that can be converted into a voucher of €0.04.
€2.50
Actions attributed to amethyst on the physical plane
Amethyst is very suitable for helping skin problems, it soothes pain and nervous tension.
It has properties that help regulate blood pressure and reduce headaches.
Amethyst soothes moments of anger and helps fight addictions such as alcohol, tobacco, caffeine and various drugs.
Actions attributed to amethyst on the psychic level
Amethyst helps in discernment, it allows you to refocus your ideas and to reconstruct thoughts in an orderly way, thus providing invaluable help in the development of a plan, a study or the development of a concept or a business.
On the spiritual level, amethyst harmonizes the senses
It brings a balance of the sense of justice and develops the awakening while harmonizing the body and the spirit in an envelope of interior peace.
How to purify your amethyst?
To purify your amethyst, you just need to pass it through running water, for example in the current of a river or stream, you can also soak it in slightly salted mineral water.
How to recharge an amethyst?
To recharge your amethyst place it in the light of the moon "the full moon being the best" avoid leaving it too exposed to the sun which can seriously disturb your stone.
When reloading stones outdoors, always ensure that the nights are not too cold, indeed freezing for example can destroy a stone in a very short time.
We only offer authentic stones which means that they have their own life and can have small peculiarities that make their uniqueness.
Each stone is different because each being is different and you will receive the stone assigned to you. In a way, she chooses you.
-------------------------------------------------- -
Lithotherapy does not replace consultations with your approved doctor. The properties are those that traditions, user experiences and reference books have. The stones are not a substitute for a medical consultation and are not drugs. In the event of illness, a consultation with your doctor remains a priority.
10 other products in the same category: