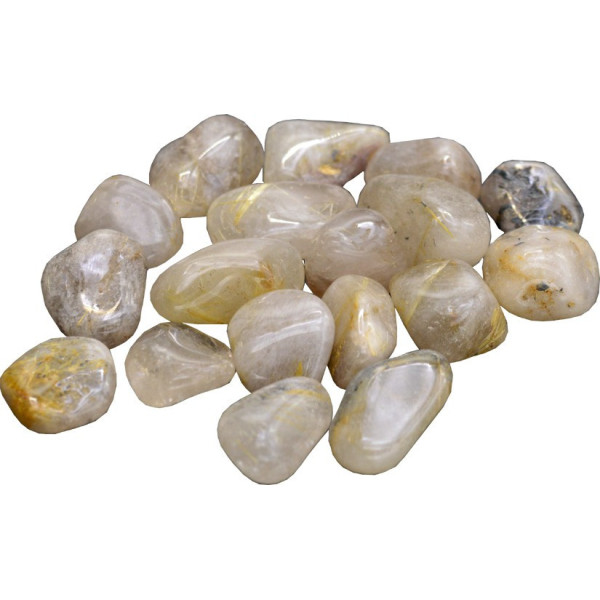 Rutile quartz - Rolled stone
Rutilated quartz a clairvoyant perception
Rutile quartz has a hardness of 7 on the Mohs scale.
It is part of the quartz family, it is also called venus hair because its inclusions of rutile crystals are reminiscent of golden hair.
Quality A in 2 or 2.5 cm
Use of rutile quartz in lithotherapy
It is known to give resistance to effort, strength, cheerfulness.
He is originally from Brazil.
By buying this product you can collect up to 16 points. Your cart will total 16 points that can be converted into a voucher of €0.03.
Actions attributed to rutile quartz on the physical plane
It is recognized for its actions on allergies, asthma, heart and lungs. It is also indicated to have positive properties in terms of tissue regeneration and helps with a diet.
Actions attributed to rutile quartz on the psychic level
It helps in building or rebuilding oneself, it supports changes and calms fears of the future, some endows it with positive actions on depression and phobias.
Rutilated quartz opens the mind and promotes confidence in oneself and in the future and allows to see through trials to find the ray of sunshine that illuminates the future and ward off bad waves.
On the parapsychic level, rutile quartz accompanies and protects
This stone is widely used in the divinatory arts to accompany clairvoyant perception through its power of opening the mind and to achieve a favorable situation for multiple uses in the field of divination.
It also has the great advantage of being a very good protector while keeping away bad vibes and evil spirits because divination opens doors that can let in what we expect but also less positive things that we do not want.
How to purify your rutilated quartz?
To purify your rutile quartz, simply pass it through running water, for example in the current of a river or stream, you can also soak it in slightly salted mineral water.
There is also vibration purification which involves placing your stone in a singing bowl and vibrating it while leaving the stone inside until the bowl finishes its vibratory cycle.
How to recharge a rutile quartz?
To recharge your rutile quartz simply place it in sunlight.
When reloading stones outdoors, always ensure that the temperatures are not too cold or hot, in fact large differences can destroy a stone in a very short time.
We only offer authentic stones which means that they have their own life and can have small peculiarities that make their uniqueness.
Each stone is different because each being is different and you will receive the stone assigned to you. In a way, she chooses you.
-------------------------------------------------- -
Lithotherapy does not replace consultations with your approved doctor. The properties are those that traditions, user experiences and reference books have. The stones are not a substitute for a medical consultation and are not drugs. In the event of illness, a consultation with your doctor remains a priority.
10 other products in the same category: