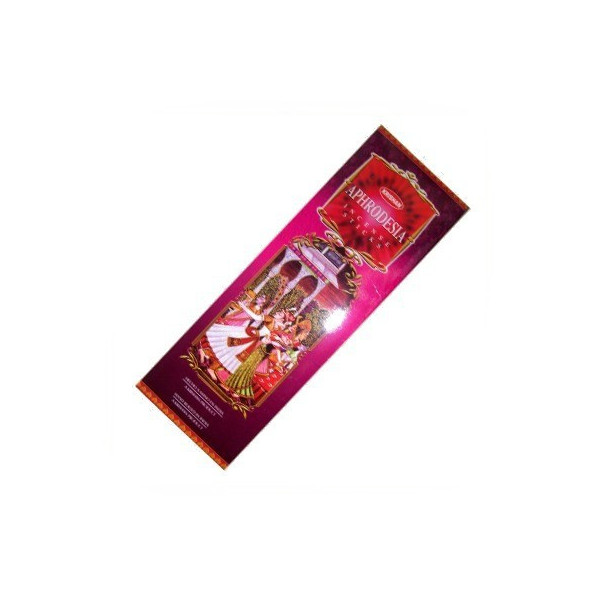 Incense sticks krishan aphrodisia
Incense sticks aphrodisia:
Box of 8 krishan aphrodisia incense sticks.
Decreasing price depending on the quantity ordered.
All our incenses are of artisanal quality, they are made by hand in the pure Indian tradition based on essential oils.
Origin India.
By buying this product you can collect up to 4 points. Your cart will total 4 points that can be converted into a voucher of €0.01.
Krishan aphrodisia incense sticks: for moments of pure exaltation
The incense make a sensational entry into our interiors. If men have used them for decades as a means of spiritual upliftment, care or prayer, things have changed. Nowadays, it is especially popular for creating a relaxing atmosphere. This tool is indeed known to release a scent that embalms and allows to benefit from the positive effects of the plants that constitute it. Discover the krishan aphrodisia incense sticks to invite unique scents into your home.
A traditional and artisanal incense
If you are wondering between stick or cone what is the best way to use incense in your home, tell yourself that sticks are recommended. In addition to offering an aesthetic added value, it facilitates the control of the use which is made of the incense. Aphrodisia incense sticks are specially designed to respect ancestral Indian traditions. The country is indeed a reference in the matter.
Their artisanal manufacture gives them extraordinary properties. Composed by hand and based on essential oils, it retains an authentic side. This manufacturing process makes it possible to keep all the essences without risk of denaturing them. Incense thus keeps all the essential values of plants and oils and only fully releases them under the effect of combustion.
Characteristics of krishan aphrodisia incense
This box contains 8 incense sticks. These will allow you a use as diverse as it is varied. Once lit, the sticks burn slowly to the end without going out. The essential oils released by fumigation will help you feel comfortable right away.
Its use will be an asset after a long and stressful day at work or during the practice of yoga. Once the essential oils are released, you will enjoy their benefits as is the case with aromatherapy. If you don't know the unsuspected role of incense, test them.
How to use krishan aphrodisia incense
If you want to know how to burn your incense sticks, know that it is important to put in place security measures. For example, start installing your support away from any flammable element. The latter must also be stable so as not to risk falling in the event of drafts. It will have to integrate a hole in which the base of the incense stick can enter and rest.
Once the device is ready and secure, turn on the tip of the stick, unlike some sticks which require human intervention to turn off, the latter turns off on its own and begins to deliver sweet and pleasant scents .
10 other products in the same category: