Earn points with our loyalty card offer
By shopping on our online incense store you accumulate loyalty points that you can convert into euros to deduct from a future order, the loyalty points are indicated on the product page as well as in your shopping cart so you know at all times the accumulated points that you add to your loyalty account.
In the loyalty points section of your customer account, you will find a point statement as well as the method to use to convert and spend them on degrifencens .
If you have any questions or specific expectations, please contact our customer service.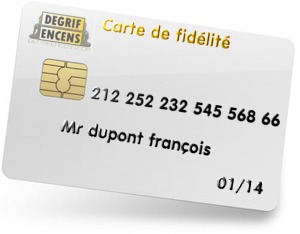 Conditions of loyalty degrifencens offer
The use of our loyalty points service implies full adherence to the conditions below.
Article 1: Degrifencens has offered its registered customers loyalty points since 01/05/2015 for purchases made on degrifencens .com, the number of loyalty points is variable depending on the total of purchases, this is clearly indicated on the products as well as in the shopping cart summary.
Article 2: Loyalty points are accumulated on the customer's account and are valid for 365 days from the date of dispatch of the package to the customer, they are therefore accessible via the loyalty area of the customer account and are convertible into a reduction voucher can be used on degrifencens .com as soon as the cumulative threshold of 1 euro is obtained.
Artcile 3: Loyalty points are neither exchangeable nor refundable as soon as loyalty points are converted into a reduction voucher; they are no longer cumulative on the loyalty points account.
Artcile 4: Reduction coupons converted with loyalty points must be used at once.
Article 5: The discount coupons obtained with loyalty points are not deductible on delivery costs, they can only be deducted from products added to the basket.
Article 6: Loyalty points are returned to the customer account following full validation of an order the return, non-payment, cancellation or exchange of one or more items of an order cancels the issue loyalty points and reduction coupons from loyalty points attached to the canceled order.
Article 7: Degrifencens cannot be held responsible for loss of loyalty points in cases of force majeure (computer failure, bug, hacking, etc.)
Create your free account